A Probus club is a local association of retired and semi-retired professional and business men. The name is an amalgamation of the abbreviation of the words PROfessional and BUSiness. It started in the 1960s and is now a world-wide organisation. Our aim is to provide a regular meeting point for retired professional and business men.
Dorridge Probus Club started in 1975 as Knowle and Dorridge Probus. Increasing numbers lead to Knowle forming their own club, and the two have coexisted amicably ever since.
Venue
After a few changes of venue, since our founding, we now meet at the Copt Heath Golf Club. Meetings are held on the first Tuesday of every month starting at 12 noon for 12.45, with a meal first followed by a talk. Ladies' Days are held twice a year, and there is an AGM in February.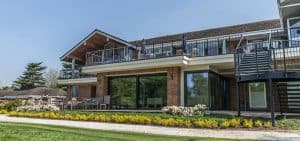 1220 Warwick Road
Knowle
Solihull
B93 9LN
Programme
| Date | Topic | Speaker |
| --- | --- | --- |
| 7 May | Your Royal Navy | RN Presentation Team |
| 4 Jun | Anecdotes from the Saleroom and the BBC (Ladies' Day) | Charles Hanson |
| 2 Jul | The Royal Secrets of Spode | Ray Elks |
| 6 Aug | Life on Mars - policing in the 70's with a few murders thrown in | Michael Fieldhouse |
| 4 Sep | What is Macular Degeneration? (NB - Wednesday) | Amanda Read |
| 1 Oct | Brand Names - Why are they called as they are? | Anthony Poulton-Smith |
| 5 Nov | Stories of the English Coinage | Phil Griffiths |
| 3 Dec | Santa Claus - the story (Ladies' Day) | Sandy Leong |
| 7 Jan 20 | The Joy of British Politics | John Greenwood |
| 5 Feb | Annual General Meeting | |
| 3 Mar | Ladies and Gentlemen, raise your glasses! | Denis Plater |
Contact
For further information, please email us at dorridge.probus@gmail.com