A Probus club is a local association of retired and semi-retired professional and business men. The name is an amalgamation of the abbreviation of the words PROfessional and BUSiness. It started in the 1960s and is now a world-wide organisation. Our aim is to provide a regular meeting point for retired professional and business men.
Dorridge Probus Club started in 1975 as Knowle and Dorridge Probus. Increasing numbers lead to Knowle forming their own club, and the two have coexisted amicably ever since.
Venue
After a few changes of venue, since our founding, we now meet at the Copt Heath Golf Club. Meetings are held on the first Tuesday of every month starting at 12 noon for 12.45, with a meal first followed by a talk. Ladies' Days are held twice a year, and there is an AGM in February.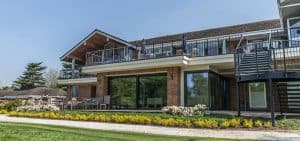 1220 Warwick Road
Knowle
Solihull
B93 9LN
Programme
Date
Topic
Speaker
7 April 20
Brain Function - and Maintenance
Prof Colin Terrell
5 May 20
The Gloucestershire - Warwickshire Railway
John Mayell
2 Jun 20

Tale of a Tubab - a Nursery School in The Gambia
(Ladies' Day)
John Adnitt
7 Jul 20
West Midlands Rail Developments
Peter Sargant
4 Aug 20
Marie Curie
Amy McNaughton - Brown
2 Sep 20 (NB - Weds)
The Life of a Blood Biker
TBA
6 Oct 20
St Pauls - Defence and Defiance
David Morse
3 Nov 20
Magistrates in the Community
David Warner
1 Dec 20
The Printing Nuns of Stanbrook Abbey
(Ladies' Day)
Dave Butcher
2 Jan 21
How to Make Money out of Murder
Sally Jenkins
2 Feb 21
Annual General Meeting
2 Mar 21
It's What You Can Do That Counts - Riding for the Disabled
Pat Layton
News
For the latest news, click here.
Contact
For further information, please email us at dorridge.probus@gmail.com