A Probus club is a local association of retired and semi-retired professional and business men. The name is an amalgamation of the abbreviation of the words PROfessional and BUSiness. It started in the 1960s and is now a world-wide organisation. Our aim is to provide a regular meeting point for retired professional and business men.
Dorridge Probus Club started in 1975 as Knowle and Dorridge Probus. Increasing numbers lead to Knowle forming their own club, and the two have coexisted amicably ever since.
Venue
After a few changes of venue, since our founding, we now meet at the Copt Heath Golf Club. Meetings are held on the first Tuesday of every month starting at 12 noon for 12.45, with a meal first followed by a talk. Ladies' Days are held twice a year, and there is an AGM in February.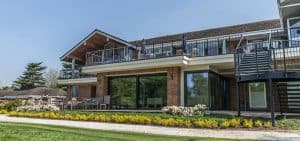 1220 Warwick Road
Knowle
Solihull
B93 9LN
Programme
Date
Topic
Speaker
1 March 22
How to make Money out of Murder!
Sally Jenkins
5 April 22
Most Secret - Defford Airfield and the story of Airborne Radar
Tim Barney
3 May 22
Stourbridge Glassmakers, their history and their legacy
Kate Round
7 June 22
It's what you do that counts - Riding for the Disabled
Donna Jenkins
5 July 22
The Gloucestershire-Warwickshire Railway
John Mayell
2 August 22
John Snow and the Broad Street Pump
David Moore
6 September 22
Transatlantic Liners - Speed and Style
Nigel Metcalfe
4 October 22
The Great Fire of London - 1666
Alan Hill
1 November 22
Gunpowder Plot
Philip Bowen
5 December 22
(Monday)
How the BBC Proms get to your TV screen
Mark Kershaw
10 January 23
Wonderful World - Africa
Paul Carpenter
7 February 23
AGM
7 March 23
Easy as ABC
Mary Bodfish
News
For the latest news, click here.
Contact
For further information, please email us at dorridge.probus@gmail.com