See our new sections Memories, Our Members, Blast from the Past and Local News. Our Newsletter for April 2021 is now available online. You can find previous Newsletters here. For easier navigation you can also link directly to all sections of this site from here. Finally, use the links below to bypass Latest News and link to other sections of this page:
Latest News

A Message from our new President
Tim with his wife Liz. They were married 57 years ago.
Good fellowship is the Probus toast. But Covid made that hard to nigh impossible for the last year. So our President, Lionel Jacobs has had to endure a stressful and frustrating year. Our thanks and sympathy go to him from all of us. Throughout our committee has been amazing and it seems invidious to single out anyone.
However I would like to say a special thank you to Colin Smith, our Secretary, and Derek Treagus, our webmaster for doing so much for us all. And to Chris Collier for arranging Zoom talks and discussions.
But what of the future? Our priority must be to get things up and running again, as soon as the virus and lockdowns allow.
I hope we shall be able to resume our monthly meetings from 5th July when hopefully we shall all be able to meet face to face again
We are already giving thought to organising some day trips to interesting places, accompanied by our wives/partners.
It may be too early to consider our longer holiday trips, such as the cruises organised by John Robertson and before him by Chris Collier. But they must be resumed as soon as possible.
Our summer party is ready to go thanks to Graham Adams and provisionally set for 14Th August
and last but not least we are already planning to hold the Ladies Dinner again, probably in November.
Meanwhile we are slightly below our full complement of members and it would be good if we could recruit new blood. Suggestions would be most welcome.
I look forward to seeing you all in the not too distant future. Meanwhile here's to Probus and Good Fellowship.
Tim
Important Announcements
Our President and committee cancelled our meetings on the 2nd April (which would have included our AGM) and ongoing meetings as a result of the government response to the C-virus crisis. Review of Accounts and appointment of the new committee was therefore done remotely. Full details can be found in the Members Area of this website (password required). The website will be further updated when the current situation becomes clearer.
Obituaries
Obituaries of those who have sadly passed away can now be found in the In Memoriam section of our website, our thoughts remain with all their friends and relatives.
AGM
Our AGM was held by by email and Zoom at 11am on Thursday 1st April. Details are available in the Members Area of this site (password required).
Key notices given at and before the meeting were:
Subscriptions  for 2021-2022 are be due and details have been sent to all.
Our Summer Event is  to be held on Saturday 14th August 12 noon until 4pm   (to coincide with Sarisbury Green CC's 'Fair on the Green').  More details will be sent to all soon but please put the date in your diary.          
The  Ladies Dinner is now scheduled for Wednesday 10th November, details to be announced later in the year.
We will let you all know what is happening to future events as and when they can be arranged. For the time being our meetings will be on Zoom, but will recommence going 'live' as soon as permitted. We currently expect a return in July.
Derek is keeping the website updated and other information  of interest would hope to be added. More anecdotal stories of past adventures etc., could be shared this way.   Hope you can all contribute,    Hand writing, email, and other forms of communication are acceptable.
We would request all members keep the committee informed of their own wellbeing and how they are coping with current situation.   

Committee Updates
The Summer Event at Graham Adams' home will now be taking place in August 2021. We hope to return to normal meetings in July.
The Ladies Dinner is now scheduled for Wednesday 10th November
The website continues to be updated with information of interest added when available. We would request all members keep the committee informed of their own wellbeing and how they are coping with current situation. Other anecdotal stories of past adventures etc., could be shared this way. We hope you can all contribute, (not having time is not now an excuse). Hand writing, email, and other forms of communication are acceptable. See our new sections Memories and Our Members. All contributions to these sections gratefully received. Please send your input to probuslocksheath@gmail.com
Materials from last and last year's AGM are available in the secure section of this website. Please ask a member of the Committee if you need a password.
May we also take this opportunity to wish you all well. We appreciate like ourselves that many of you will be dealing with vulnerable friends and family and hope you all navigate your way through this unusual period.
Other News
Who says us "Oldies" can't do new technology?
Probus meeting clip from the Zoom screen. Everyone seems to have a shirt on at least!
After months of self isolation and inability to either hold regular committee meetings or meet up as a group, the committee met up to discuss how best to progress over the coming months using Zoom…… who says us oldies don't understand new technology.
The meeting was a great success and in addition to agreeing a position on fees for the current year (see Colin's separate note) also concluded on trying our first remote talk on Southampton Docks, details below.
As the title says "Who says us oldies can't do new technology!" Which
Club Updates
Geoff Smith advised that all club members are affiliates of the Sarisbury Green Community Centre and, as such, are entitled to discounts should they be attending any event there
We have recently become aware of the Probus Global website which provides a range of information including details of Probus Clubs around the World and access to worldwide Special Interest Groups, including Photography and Travel. You can find the latest Probus Global newsletter >here<
For details of recent events, see the Recent Events section of this website. Photos are also available in the Photo Gallery section of this website.
Whilst this years visit to Chichester had to be cancelled Details of the individual Chichester productions attended in 2019 can be seen in the Chichester Festival page of this website
And finally, we would like to welcome all new members to our Club, details of new members are published in the Membership section of this website
Recent Events
A Probus Meeting with a difference

Yes I know that all of our recent meetings have been different in that they've been held remotely, but this was different yet again….. no speaker was present, attendees were asked to review a short online documentary about the Team GB entry in the America's Cup (aka The Prada Cup after its new sponsors).
You didn't have to watch the video, but seeing that many of our members are yachtsmen, why wouldn't you, after all you might get a few tips!
Exciting right through to the finish, the winner of the previous Americas Cup in 2017 (New Zealand) got to choose the yacht design and location for this challenge. Boats are almost identical built to meet a set of rules. The current holders qualify automatically, all other contenders race each other to determine who should get to race against New Zealand in the final.
So, what did we see? Starting with a crash involving the US team, we were given a good insight into not only the minute changes that can make all the difference between one team and another, but also the dangers involved in this sport. It's definitely a game for professionals like Ben Ainslie who leads the GB team.
As to the race that we saw, after multiple circuits of the course the difference between the teams involved came down to a matter of seconds. The winners and hence qualifiers for the pre-final playoff? Well you'll have to either look on the internet or watch the video yourself if you haven't already done so.
Anyone who hasn't seen the video and would like to see it can still view it on the BBC TV app or on BBC TV catch-up (until approximately the end of the month, February 2021 or link directly to it here.
Probus – a truly Global meeting
by Derek Treagus
On Thursday 28th January or Friday 29th January depending on which side of the International Date Lineyou live, we held a truly international Probus Global meeting on with ninety three attendees from four continents and nine countries across the world (Northern Ireland, Scotland, Wales and England all classed as one).
A large Irish contingent, a representative from Chile and a number of attendees from the Southern Hemisphere were amongst the notable groups represented, the wonders of modern technology meaning that although we were globally separated we could all speak to each other as if we were in the same room.
We could never have imagined this in our youth (however long ago that might have been). Who said you can't t teach an old dog new tricks (not that I'm implying Probus members are old 😀)
After a review of Probus Global status, we moved on to our evenings main speaker, Silvana Martignago, Chief Executive Officer of Probus South Pacific who took us through an interesting presentation highlighting the challenges faced by Probus Clubs not just in her region but worldwide and some of the ways they can and are being tackled.
Probus needs to be a growing and dynamic organisation focused on the future as well as today, making the most of the tools and skills we have available to us today and rising to the challenge that we currently face rather than hiding from it. Take a look at the presentation if you want to know more, you can see it here. <PRESENTATION> along with the <SLIDES> used.
Joined later by Rob Neary, Rob covered several ideas being promoted in his region to increase membership and involvement in Club Membership. Definitely food for thought for all those present.
As both Rob and Silvana said, now is the time for all PROBUS groups with membership restricted from doing its normal activities, to explore new options, engaging membership with Zoom virtual monthly meetings, international speakers, chat lines among members, organised games/quiz and Communication trees where selected members will call members to check on their well being.
So the meeting ended, some of us just off to bed for the night, some of us just about to start a new day and some of us somewhere in-between, but all of us enthused with some new ideas and, of course, some new contacts far away from home wherever that might be!
COVID 19 -A TIME TO 'DO' OR A TIME TO 'SUFFER'
by Ian McDonald
The worst thing you can do during a spell of isolation is to do nothing! This can only result in boredom, lethargy, and grumbling, all unpleasant aspects of having nothing to do. The day is too long, the shops are closed and all seems lost! (but not Lost at Sea).
A friend called to see me a few months ago to examine a model boat I had just completed. It was a model of a Mirror Dinghy, built to remind me of the happy time some 50 years ago when I built a real dinghy for my two sons. He soon became aware of another issue – a substantial plan on the Dining Room table of a Victorian Steam Launch.
He looked it this with a professional eye, and asked me if l had intended to build the boat. I replied that it might well be my next project, and he then asked me if this could be a combined effort-he would do the metal work, and I would build the hull. He wanteda project to divert the gloom of Lockdown. l agreed. What a wise decision on my part. We would consult jointly, consult easily and share our abilities.
Now, it so happens that Vic (Bird) is an excellent engineer who has created a fine workshop with tools to build a battleship! I exaggerate, but sufficient to say he builds model steam locomotives within these walls. Vic is skilled – he served as an Engineering Officer in the Royal Navy as a career, hence his ability with tools.
I have a spare bedroom for my workshop, which suits me fine. We agreed that we would work together to build a boat, a vessel to be proud of. The door bell rang some days later, and I was quite amazed to see Vic holding a boiler of no mean proportion!
Opening the brass fire door I can see amongst, other items, a steam whistle (yes, I know that's a link to a brewery) and pressure guage, everything fully insulated. I was quite spellbound and I seized the intricate boiler for the not yet started hull. The boiler looked superb. Now I was really committed to our project.
The plan was slightly inaccurate in relation to our particular model. We wanted our boat to be twice the size of the original plan, and we needed help. Now it so happened that our elder son, Neal, was at home for a few days, and he is a Naval Architect… a coincidence or fate. Either way, we were very soon back business, with a scaled plan to suit.
The hull was constructed on a keel, with ribs, planking, deck and all the other details required. We then had a hollow hull to accommodate the boiler and engine, along with a cabin, seats and rudder. Gradually and all the other items were established as the model became masted, flagged and painted and ready for sea! Well perhaps not….. the model is designed to rest on a shelf!
The whole exercise was far better than either of us could have imagined. Neither of us could be called young, l am 90 and Vic is ten years my junior. We worked together and shared the tasks. It was wonderful to have such a grand companion to work with. No grumbles, no arguments, no friction, just good will and friendship. (An echo of the Probus toast perhaps?)
None of this could have happened without the support of our two wonderful wives. They were pleased to see us happy and busy (and probably out of their hair) and we appreciated them for their willing cooperation. Thank you both.
And what now after the task is done? Why, another boat of course!!
P.S. I must tell you the name of the boat. It had to be called FRIENDSHIP.
PROBUS across the World
This week I took part in a regular Probus monthly meeting, not a lot different to normal except for the fact I did it from home as we have done recently, but in this case the meeting was run by PROBUS St. Catharines, Canada.
I was one of a number of participants from across the world using Zoom to join in with the meeting. Which makes me think "How many of us would have heard of Zoom before the virus?" In our youth we had letters, you wrote them by hand and they were delivered by postmen multiple times during the day.
There was no such thing as instant, reliable communication across the world where you can actually see the person that you're speaking to in real time. The technology we have now is vital to help keep families and groups such as ours during contact in difficult times. Who says you can't teach an old dog new tricks? All of us participating in the meeting have learned something new in this troubled time.
In our lifetimes there have been so many changes, perhaps the mobile phone and internet playing the greatest part not to mention medical advances. As someone who actually worked in the Computer Industry when it took a huge water cooled system and air conditioned room to run a computer like the IBM 4300 series that I worked on when starting my career in 1979. It probably had less power and memory than your mobile phone has today, the advances have been astonishing.
The invention of the Telegraph was perhaps an equivalent for generations past enabling messages to be sent in real time. These days our phone handles all that for us too, we just need to work out which emoji to use! there are so many of them. What happens if you send the wrong one by mistake? That friend may never speak to you again!
So to the meeting itself, I have to say firstly that it was terrific to be made welcome and feel included as part of the local team. As to the presentation itself everyone in it seemed to drive on the wrong side of the road. No wonder there were so many accidents to see. The maths certainly lost me, but it was thoroughly enjoyable. I'd certainly like to repeat the whole exercise hopefully hosting a meeting from the UK although world time differences would be key to making a success.
If you'd like me to summarise what happened today in one sentence, makes me think of our good friends at Disney, "It's a small world" after all!
Editors Note: With Michael Eisner (ex CEO of Disney) his family now owning my local football team, I couldn't agree more
Avenue 141 – March 2020
Yet another fantastic visit to Avenue 141 (our third within a year) and, as always, excellent food, excellent company and a terrific opportunity for the students to practice what they are learning with a "live" audience.
As always, our thanks to Mike Cresswell for organising this event
For those interested, details of our menu can be found >here<
Ladies Dinner (by Derek Treagus)
On a cold, frosty evening, a group of forty Probus Club of Locks Heath members, their wives and guests gathered in a cold, damp and dark garage to celebrate the annual Ladies Dinner…… except it wasn't cold, it wasn't damp and it wasn't dark. It was vibrant, full of life and buzzing as everyone prepared themselves for a Ladies Dinner with a difference.
We had an excellent three course meal (not to mention the free flowing wine) followed by coffee, provided our own after dinner entertainment through Graham, Geoff and Mike and took the opportunity to get to know more about our fellow Club Members and their partners.
Everyone agreed that this was the best Ladies Dinner they had attended, unique in every way, not least through the provision of pea shooters and ammo at every table. What fun! In the old days you could say "boys will be boys", but it's fair to say the girls were just as bad!
Our thanks go to Graham and Jill for hosting us, a terrific Ladies Dinner and one which will go down in everyone's memory – especially the pea shooters!
Probus Summer Lunch (by John Robertson)
On Saturday, July 27th, seventy members and guests were welcomed to the home of Gill and Graham Adams for the annual summer lunch of the Probus Club of Locksheath. The weather was fine and slightly cooler than the heat wave of the preceding days.
On arrival we were offered cool refreshments – Pimms and soft drinks, with music provided by Vic Croft – until we were invited to lunch. Graham had adapted his capacious garage with tentage to seat all the guests, including a "staff" table for the family and other helpers. The meal had been prepared by Gill and was served by her family and friends, and it was delicious – mince, potatoes and peas, with a choice of wines, followed by a pavlova sweet course.
Graham then thanked the "staff" for their sterling work in preparing both the venue and the meal, and revealed that three anniversaries were being celebrated. The first was the date he first suggested to Gill that they set up house (laughter and applause), the second was the birthday of Chris Collier (chorus of Happy Birthday to you), and finally the wedding anniversary of Howard and Carolyn Mowbray, who stood to acknowledge the applause. Howard Mowbray then asked all preset to express their appreciaton for the generous hospitality of our hosts (prolonged applause). Finally Colin Orpe announced the games which had been organised on the lawn, and the guests moved out to the garden to enjoy table skittles, putting, golf, petanque, quoits and croquet.
The afternoon passed pleasantly with many guests participating in the games and others just enjoying the good fellowship for which Probus is renowned. Finally, Gill presented the prizes to the winners of each of the games – one for the winning lady and another for the winning gent. Lionel Jacobs presented Gill with an indoor plant and Graham with a bottle of champagne, expreesing the gratitude of all members and guests for a superb meal and entertainment.
Forthcoming Events
Note: All events have been postponed due to Coronavirus a and will be revisited when circumstances allow
Possible events include:
A visit to the Solent Sky Museum
Visits to Chichester Festival Theatre
A club cruise or similar group holiday
A Summer Garden Party
A Ladies Dinner
The committee will actively work on further events as the future becomes clearer, although all events will be subject to the current medical situation. Review the website to see details as they are published.
News articles and photos of previous events can be seen in the appropriate sections of this website as well as via the Club Newsletter
Speakers
Recent Speaker
The Hidden History of Harry Potter
First published in 1997, a first edition of Harry Potter and the Philosophers Stone is now worth upwards of £39,000, so now is the time to search through you loft for the elusive article!
But, there was so much more to the story than most readers know, hidden clues, hidden references to people and places and a great deal of reliance on the history of magic itself.
From Shamans smelting materials to create "gold" through Ancient Egyptian mythology and beliefs including rebirth through the god Khepri (based on the work of Dung Beetles!), the idea of magic an rebirth has been around for many years.
Names of character had meaning too: Albus Dumbledore (White) Rubeus Hagrid (Red) (the linked article will explain more) and Minerva McGonagall – all bright positive colours, The Malfoy Family name based on the french word "Mal". Plus many more, Sirius Black and Sibelius Crelawny being just two extra
Moving on we covered Magic Bowls, Indiana Jones and the search for the Holy Grail (an interesting combination if ever there was one) believed to have been used to collect blood at the Crucifixion. Apparently discovered in Spain a few years ago with the correct scientific dating, who knows?
Magical Creatures, Mermaids (often rendered to as Sirens), Unicorns (Reference the Horn of Windsor), Mandrakes (a rooted plant which looks like a person and has anaesthetic properties) and Willow Tree bark which when ground produces Salicylic Acid and forms the basis of Aspirin came next.
Finally, our day out at Hogwarts ended with much still to be explained, a reference to the "Dark Arts" art school in Germany and a reference to the Flying Dutchman Opera and its relevance to our Harry Potter presentation.
We'd barely started yet we'd finished (could that be the result of a Magic Spell?), there is so much more we could explore! If you haven't read the series of books or the talk has made you think of rereading it, off you go……. only 4,224 pages or just over a million words to go!
or you could cheat and you could read the short summary here!
"The Pain and Pleasure of Vintage car Touring" on March 4th
An excellent presentation today, but what is a Classic Car, perhaps we should start with a definition from Wikipedia: A classic car is an older car, typically 20 years or older, though definitions vary. The common theme is of an older car of sufficient historical interest to be collectible and worth preserving or restoring rather than scrapping.
Wikipedia goes on to say that organisations such as the Classic Car Club of America (CCCA) maintain lists of eligible unmodified cars that are called "classic". These are described as "fine" or "distinctive" automobile, either American or foreign built, produced between 1915 and 1948.

There is no fixed definition of a classic car in the UK either, however two taxation issues do impact cars, leading to some people using them as cutoff dates. All cars built over 40 years ago are exempted from paying the annual road tax vehicle excise duty, and also exempt from the annual UK safety test known as the MOT test, however the vehicle can still be presented for test on a voluntary basis.

HM Revenue and Customs define a classic car for company taxation purposes as being over fifteen years old and having a value in excess of £15,000. Additionally, popular acclaim through classic car magazines can play an important role in whether a car comes to be regarded as a classic but the definition remains subjective and a matter of opinion.
So, with thanks to our presenter, we now are a little more familiar with the fun and challenges of owning such a beast. When will you be buying yours?
Attached is a photo of a vintage Riley passing an old Flourmill in the French countryside.
A mixture of Eccentrics and Rogues on January 7th
So how do we define eccentricity? And who do we apply it too? The definition of eccentricity and who is an eccentric can cover a range of well known people from the Beatles to Spike Milligan (more on him later) and Screaming Lord Sutch.
However, an eccentric to you may seem normal to me or even your other half or best friend, but going back in time and even to this day it seems to often involve Royalty and the "Well to Do"
We start here with Henry de la Poer Beresford from Melton Mowbray, the originator of the saying "paint the town red". Fortunately he had nothing to do with pork pies or they would be red too!
Lord Clancarty, publisher of Flying Saucer Review (still available online if you are interested) featured in an interview with Terry Wogan was also a proponent of the Hollow Earth Theory. Believe it or not, he was also an ex-Government minister!
Next in our list, Baron Walter de Rothschild, another MP. Apparently destined for greater things, his carriage was pulled by Zebras rather than horses and he maintained his own zoo. His rise to fame was apparently brought to a sudden end when he invited senior colleagues to a "special" banquet". Guests arrived to be seated only to find empty seats next to them. It got even worse when their occupants arrived….. a troupe of monkeys! As you will see from the previous link (if you followed it) they formed a small part of his collection of animals.
We move on to John Mad Jack Mytton, strangely also a Member of Parliament (There seems to be a theme here). He apparently offered friends £10 to vote for him. He ended up broke (and drunk) in a Debtors Prison.
Many more followed:
Lord Rokeby, a recluse with "water on the brain", who built and floated in a large water tank in his mansion. Could it have been the first indoor swimming pool?
The Sitwell Family consisting of Sir George and his two sisters. A mad inventor (and yet another member of parliament) his inventions, amongst other things, included a gun for shooting wasps. The only reference to Wasp Gun I can find refers to modern day electronic game play!
Edward Hyde, 3rd Earl of Clarendon, who was said to be a transvestite. He often dressed in women's clothes and took on many positions of authority including a period as Governor of New York!
We then went slightly off track moving on to more modern times, reminiscing about the very famous Brian Johnson and Jonathan Agnew cricketing clip, it's all in the bails! This was followed by Cynthia Payne who apparently offered a £3 discount to older visitors to her premises as well as accepting Luncheon Vouchers, who remembers them?
More from our era we started with Spike Milligan (this link provides a rare insight to Spike's private life) Moving on, and the Goons both of which were inspirational for the Monty Python team. Following that we were introduced to "Bob the Tray" Blackman and his rendition of Mule Train.
To celebrate fifty years of Python in 2019 the BBC History dug deep inside BBC Archives and lifted the lid on how the series was commissioned. For Python fans it should be an interesting read which you can see via this link.
Moving on, we discovered Donald Sinclair, a hotel owner in Torquay, the inspiration for Basil Fawlty. Apparently his wife used to have to lock him in the broom cupboard for his own safety. It would certainly have been an interesting place to stay!
So where does it all end? How about the Eccentric Club in London, President…… Prince Philip! Their motto could equally apply to PROBUS, although not since 1781 (at least as far as I know):
NIL NISI BONUM – Celebrating Eccentricity since 1781
Oh God our help in ages past on 3rd December
Andy Skinner started our presentation the familiar chant of Southampton City Centres civic bells which feature the original Issac Watts composition from over 300 years ago. The tune will also be very familiar to many others, but more on that later.

At that time, Southampton was a small port focused on wine and trading which became partly famous around the time when the Mayflower set sail from the port for the New World only to have pull in at Plymouth on the way. Plymouth took all the glory, but Southampton does have the Mayflower Theatre as a mark of its involvement!

The population increased over the years with many Huguenots choosing to live in the port following the St. Bartholomew's massacre of Huguenots in France. The French Chapel established at that time still exists today and holds an annual service in its mother language.

Son of a local vicar, Issac Watts went to King Edwards School, was well educated and could speak both Hebrew and Greek. He went on to become the Father of English Hymns writing a total of over 750, mainly focused on the Psalms and this is where today's link still exists.

Put simply, Psalm 90 which forms the basis of the hymn "Oh God our help in ages past" is in turn the basis of Southampton's Civic Centre chime. The Psalm itself was also used at the State Funeral of Winston Churchill.
The Clock Tower was, in fact, never originally intended to be installed but ended up being completed with the famous chime which residents of Southampton are familiar with to this present day.
So that's, in a very quick pass with no little more than a quick overview of what was covered. As always, use the highlighted links to find more information on various parts of the talk and this final link to listen to the chime.

Hang on a minute, listen carefully to the Civic Centre bells…… I'm sure that's Play Up Pompey I can hear……. in Southampton?, really?
Editors Note: If you wish to find out more about bell ringing in Southampton (or even fancy trying it yourself, contact Southampton City Ringers via the highlighted web page.
Titanic on 19th November
Our talk started with our speaker providing an overview of the Sea City Museum and the the "interesting" fact that the toilets for for the centre are located in the old prison cells. If you do need to use them, don't get locked in!
Back to Titanic…. Captain Smith who had captained a range of White Star liners prior to taking on this role was highly regarded within the industry and by his peers having captained a number of White Star Line vessels during his career. He led an experienced team including second officer Charles Lightoller, the only officer to survive and who later sailed to help the Dunkirk evacuation.
The boat was well covered with lookouts, six in total working in pairs, so what went wrong resulting in over 1,500 deaths, many from the City of Southampton. The Crew Wall in the museum shows locals that are known to have died with many people drawn to work on the boat during a period of high unemployment and poverty.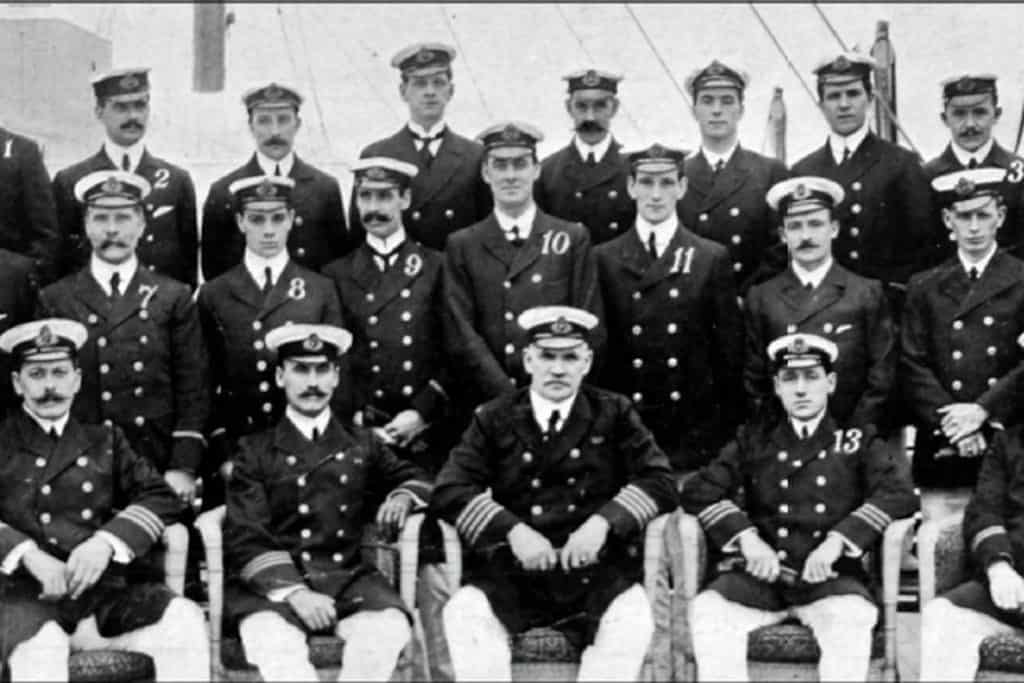 Some interesting and perhaps irrelevant facts:
Titanic consumed one ton of coal every two minutes. There are claims that it was actually an uncontrolled coal fire onboard that sank the ship!
There were twenty three women stewardesses on board (of which 20 were saved). One, Violet Jessopwent on to serve on Britannic, a British Red Cross hospital ship, during the First World War. They were paid half the wages of men doing the same job.
There were fourteen Bakers. One of the Many heroes on board, Charles Laughlin the head chef, threw deckchairs for people to hold as well as preparing bread and food parcels for use on the lifeboats. He survived in the sea for two hours before being rescued possibly as a result of being off duty and just having consumed a "reasonable" amount of alcohol that evening!
There were Dog Kennels on board, three of the twelve dogs on Titanic actually survived being given places on lifeboats, although men were denied boarding when spaces in boats were available. Rumours that at least one man dressed as a woman to escape the boat are thought to be untrue.
The ill fated voyage almost didn't happen as a collision with SS New York in the harbour which would have prevented Titanic sailing was narrowly avoided.
Originally planned to have 48 lifeboats, the number was reduced to 20 to make a promenade area for first class passengers.
The most expensive first class cabin on board cost the equivalent of 60,000 dollars today. Second class was equally luxurious comparable in most ways to the first. You can find more details of the different classes and cabins online.
On August 14th several ice warnings were received from the Californian and other nearby ships. Wireless operator Jack Philips apparently chose to ignore the warnings sent from other ships and eventually turned off contact contact with them. The rest is, as they say, history.
Two messages were sent, the familiar SOS plus CQD (Come Quickly in Distress were sent with nearby vesselsresponding to save lives.
Back to Charles Laughlin, Head Chef, who threw deckchairs for people to hold as well as preparing bread and food parcels for lifeboats. Having survived he subsequently moved to America where he crewed on several ships usually in a catering capacity. You can see his statement to the British Enquiry here.
Did the band play on until she sunk or is it a myth, either way you can hear some of the music that they played.
The unwritten "rule" women and children first was perhaps obeyed too strictly with lifeboats sometimes leaving the boat partly empty. More could have been saved. 21 of the 23 female crew survived with Violet Jessop later sailing on the Olympic. It was claimed that at least one man dressed as a woman to board a lifeboat.
With no internet and limited contact with the outside world it was difficult for families to get information about relatives onboard but eventually reports began to come out across the world.
The Southampton museum has several recorded Titanic survivor accounts which can be directly accessed from their website. You can also see both survivor accounts and several other videos on the British Pathe website.
To finish, Olympic, Titanic's sister ship, had a very successful career as a Cruise Liner. There are however very many conspiracy theories as to whether it was the Olympic rather than the Titanic that sank.
Download the Titanic Trail and the Old Town Walk should you visit Southampton and want to explore further.
To finish, the Sea City Museum referred to at the beginning of this article opened on 10th April 2012, exactly 100 years after the Titanic sunk.
Editor's Note: The Museum is well worth a visit, one key exhibit on show, amongst many others, is detailed below:
CAPTAIN SMITH'S SWORD
Captain Smith perished with the Titanic. His Royal Naval Reserve sword, donated by his family in 1912 now features in SeaCity Museum in the Southampton's Titanic story exhibition.
Andy Skinner presented The History of Southampton Docks on August 18th at our first ever Zoom meeting
An historic day was made today as twenty four members of the Probus Club of Locks Heath gathered together online using Zoom to experienced their very first online group presentation.
The presentation on the history of Southampton docks was given by Andy Skinner who started by referring to the term POSH which Andy said was not really relevant in real terms and that it's current interpretation had been manufactured over the years.
Andy began by referring to the history of Southampton starting in Roman times when it was known as Clausentum. This area, known as Bitterene today, was mainly involved in the production of Fish Sauce. The next area occupied was St Mary's where a Norman mediaeval town was established. It was primarily involved in the wool trade and in handling wine which was imported from Gascony.
Moving forward, the seventeenth century saw the start of boat building in Southampton and rounding area, in fact it is 400 years ago this year since the Mayflower left Southampton on its voyage to the new world being forced to stop off at Plymouth due to a leak in it's hull. As such it is Plymouth rather than Southampton that gets credit for this voyage of discovery. Later came the development of steam powered liners including the Great Western and Britannia which crossed the Atlantic in just twelve days (the Mayflower took sixty six).
An Act of Parliament was needed in 1803 to establish Southampton Docks, the SS Targus being the first ship to set sail from there, immigrants to America were the main traffic at that time. Passenger traffic started in the 1860s.
When that occurred, expansion of the towns shipping capacity was required to help trade enabling new businesses such as nurseries to be established providing grapes fruit and similar items for the ships was required. The next phase saw more companies moving to the south coast in the 1890s including the start of luxury liners, but more on that later….
The City of Paris was the first luxury liner to move to Southampton in 1888 with work on the new docks completed in 1890 despite regular strikes including movement of the railway station due to flooding. Further development completed in 1910 including huge warehouses
The first occupant of the new docks was the White Star Line which could host huge four funnel ships including Mauritania which became holder of the Blue Riband for transatlantic crossings.
1912 saw the departure of the Titanic on it's fateful journey, three quarters of the crew being locals to the Southampton area. Soon after came the First World War, the sinking of the Southampton based Lusitania with Americans on board leading to the US joining the war.
The current West Docks were created just after the end of the war with the introduction of the new "Tourist Class" vastly increasing the number of travellers but this was all to change again with the outbreak of World War II. The docks had a major part to play in D-Day.
Post war, there was a general move from liner based holidays due to the increasing availability of affordable air travel with the QE2 the first ship to buck the trend and reestablish the idea of a holiday at sea.
Southampton is now a major sea port commonly seen as driven by the three C's – Cruises, Crude Oil and Cars. The additional tides available through the positioning of the Isle of Wight being one of the key factors.
Speaker Schedule 2020/2021
Due to the Covid situation, the regular Speaker schedule has been suspended. Speaker coordinator, Chris Collier, whilst keeping in touch with planned speakers has scheduled a series of online speakers on a monthly basis details of which are given below.
Write ups of recent talks can be found in the Recent Speakers section of this website.
| 2020 | Subject | Speaker |
| --- | --- | --- |
| October | History of Southampton Docks | Webinar |
| November | Titanic | Webinar |
| December | Oh God our help in Ages past | Webinar |
| 2021 | | |
| January | Great British Eccentrics | Paul Robins |
| February | Britannia - The Americas Cup | Watch and Review |
| March | The Pain and pleasure of Vintage Car touring | Guest Speaker |
| April | Hidden haunts of Harry Potter | Webinar |
| May | Lasting Power of Attorney | Chris Chippendale, LPA Made Simple. |
Previous Excursions and Holidays
Club-organised holidays have included the following (see the Photo Gallery for a selection of pictures from some of these)
2019 River Cruise on the Danube
2018 Fred Ölsen Cruise to Norwegian Fjords
2017 Fred Ölsen Cruise around Scotland
2016 Lake Como in Italy
2015 River Cruise Strasburg to Saarbruken
2014 River Cruise from Provence to Burgundy
2013 Coach Tour via Santander Ferry to Northern Spain
2012 Coach Tour to the Harz Mountains in Germany
2011 Coach Tour to South West Ireland
Visits for members, wives, and guests have included:
Greenwich Park and Observatory
Houses of Parliament
Brooklands Museum
BBC London Studios
Winchester College
St. Cross, Tangmere,
RAF Museum,
Bletchley Park
Imperial War Museum
Wickham Vineyard
Isle of Wight Lifeboat Centre