Ladies Dinner 2022
If network connected, you can see the video presented at our Ladies Evening stored on Dropbox outlining the Club's activities over the past twelve months. Pictures taken on the evening are available in the Photo Gallery section of this website and a review of the evening can be seen in the Recent Events section of this page along with reviews of our Probus Picnic, our visit to Lysses Hotel, our visit to Eastbourne and the first of this year's visits to Chichester Festival Theatre. Details of Recent Speakers are also available via this link including all our speakers so far this year.
Our Newsletters for January 2022, May 2022, August 2022 and December 2022 can be seen by following these links (You can also see previous Newsletters here).
Use the links in the list below to bypass Latest News and link to other sections of this page:
Finally, for easier navigation you can link directly to all sections of this site from here.
Latest News
Members are reminded that they must notify the Club Secretary (or nominated deputy in his absence by the Monday preceding the meeting that they are unable to attend otherwise they will have to pay the normal £5 meeting fee as catering costs are based on the number expected to at each meeting.
The annual Ladies Dinner was held at Warsash Sailing Club in November. Details can be found in the Recent Events section of this page. Photos can be seen in the Photo Gallery section of this website.
Our member, Gareth Hamilton Fletcher, has looked at various options to propose a Cruise around the British Isles. The itinerary includes ports in the Channel Is., Ireland, Scotland, Northern Ireland, France as well as England, going clockwise from and returning to Southampton. He has provisionally reserved ten cabins with balconies for 12 nights from 1st June 2023 to 13th June. Please let Gareth know if you would like to join.
Departure date: 01/06/2023
Duration: 12 nights
Holiday type: Cruise Only
Cruise line: Princess Cruises
Cruise ship: Regal Princess
Arrive home: 13/06/2023
A provisional date of Thursday March 23rd has been proposed for a visit to Avenue 141.

Speakers: Please look at the Speaker Schedule on this page for details of planned speakers, which contains recently updated information by our Speaker Coordinator covering speakers up to February 2023.
Members were given a polite reminder that they must notify the committee by the Monday before the meeting if they will not be attending otherwise they will be liable to the meeting charge.
In Memoriam
We are sad to report the passing of Graham Andrews who was 95 and a Probus Member from June 2014 until retired in 2020. He was Chartered Electrical Engineer.
His funeral was held at WESSEX VALE CREMATORIUM on Thursday 29th September. At 1.00pm

Chichester Festival Theatre
We are now through this year's performances but I'm sure we will be back in 2023! Just a brief reminder of what we saw:

An introduction to our President
Born 1939 in Karachi (India) to Scottish parents. Arrived in the UK in 1942/43 when my father was posted home. We lived at various RAF stations in the UK and when dad had another tour, in Egypt.
My family eventually took root in and around Blackpool where I attended a Secondary Modern School and eventually a Technical College where I gained a number of GCE's.
These GCE's were sufficient to allow me entry into the RAF as a RADAR mechanic and later as a fitter (engineer). My RAF career took me all around the UK and middle east working on aircraft and in the engineering workshops. I completed a tour in Germany after meeting and marrying my wife Eve who was at that time a member of the WRAF.
We had our first son in Germany and our second when we returned home. My final move in the forces was to RAF Boscombe Down where I first headed up a team to bring into service the MARTEL air to ground missile and when that was completed I moved to carry out RADHAZ testing on various aircraft and equipments.

After 22yrs service and the end of my career in the service, I obtained a job with the then 'Plessey Assessment Services' carrying out EMC testing and moved to our present address in Sarisbury Green.
My passion has always been the sea and we have owned a number of sailing yachts which we have cruised locally and to the near continent. Unfortunately, old age has meant progressing to a power boat, which at least keeps us on the water.

I have been a member of Probus for a number of years, many of these as Treasurer and lately as Vice President and now in 2022 as President.
Richard

Our Past President
Tim with his wife Liz. They were married 58 years ago.
Gentlemen, in review
I am pleased to say that many of the plans we put forward came into place resulting a very successful Ladies Dinner and several other events during the year. It was an amazing evening and our thanks go to Richard for organising it.
Our proposed Summer Event went ahead as planned on 14th August as planned, you can see details in the Recent Events section of this site. Our trip to Chichester Theatre to see South Pacific at 2pm on 17th August also went ahead, details are also available in the Recent Events section of this site together with pictures from previous meetings and Events.
Our Ladies Dinner was held on Wednesday 10th November at the the Warsash Sailing Club with resident caterers 'Too much Spinach' If network connected, you can see a short video of our evening stored on Dropbox. You can also see an updated version of the video used at the meeting which covers all aspect of our club activities.
You can see pictures from both in our Photo Gallery. Our latest Newsletters for April 2021, July 2021 and October 2021 are available online and can be accessed directly via these links. You can find previous Newsletters here.
Our monthly meeting for January was not held, we did revert to an almost normal format with our new caterer in November and December with excellent attendance levels. We have inducted new members and with guests at our last meeting are hopeful of more

Despite this and the challenges that we have faced, we have managed to have a very successful year and whilst we have sadly lost a number of members we have also welcomed several new members to the Club.
Tim Mitchell, Past President
LocksHeath Probus
AGM
This years AGM was held in place of our normal monthly meeting for April with details distributed to members at the meeting. Details are available in the Restricted Section of our website.

Committee Updates.
Speakers: Chris has arranged speakers from December through to February 2023.
December 1st – Susan Howe: cooking for the rich & famous, running Fawity Towers (??).
January 5th – Matt Russel: Iron age events
February 2nd – Gareth Hamilton-Fletcher: Subject tbc
The Ladies Dinner was a great success, pictures are available in the Photo Gallery section of this website
Lionel has agreed that he will keep tabs on those who are sick and Colin will send him a list of the absentees each month
The latest Newsletter for August 2022 is now available online
To see further information on planned events click here
Other News
Club Updates
All club members are affiliates of the Sarisbury Green Community Centre and, as such, are entitled to discounts should they be attending any event there
You may be interested in the Probus Global website which provides a range of information including details of Probus Clubs around the World and access to worldwide Special Interest Groups, including Photography and Travel. You can find the latest Probus Global newsletter >here<
For details of recent events, see the Recent Events section of this website. Photos are also available in the Photo Gallery section of this website.
And finally, we would like to welcome all new members to our Club, details of new members are published in the Membership section of this website
Recent Events
Ladies Dinner 2022
On a quiet November evening the Probus Club of Locks Heath held its 2022 Ladies Evening at the Warsash Sailing Club, a wonderful venue as demonstrated by the fact that this was our second consecutive Ladies Evening here.
As with all such events, it provided a terrific opportunity for members and wives to meet-up and exchange experiences. The general hubbub, seeing groups of people talking to others and renew old acquaintances was a site to see. Also a great opportunity for our new members and their wives to get to know everyone.
A high quality meal was accompanied by a slide show bringing back memories of events held over the past year demonstrating the range of activities and events in which members have participated in over the last.
And finally, a short recital to round off the evening.
Our thanks go to Tim and all those involved in organising the evening.
If network connected, you can see the video presented at our evening stored on Dropbox outlining the Club's activities over the past twelve months. Pictures are available in the Photo Gallery section of this website
Lunch at Lysses Hotel, Fareham
A wonderful lunch in an historic Grade II listed building in Fareham enjoyed by all who were present. That just about says it all! Photos can be seen in the Photo Gallery section of this website, just click on the link to see them. To enlarge an individual photo simply click on the individual Photos that you wish to see in more detail. Read on to see more about the hotel and that particular area of Fareham's cultural heritage.
Lysses House Hotel
In the heart of Fareham, Lysses House is an elegant Georgian hotel on the High Street in Fareham.
The hotel closed its doors on the 26th October 2012 for 2 weeks to undertake a major refurbishment of the lounge, bar, main feature stairs and reception area. The bar area underwent a major change with some of the original Georgian ceiling being restored. The reception area also underwent a transformation with a smart new reception desk.
To quote the hotel, "It is time for a change and a fresh new look, whilst still keeping the original Georgian feeling of the building. It will be lovely to show off our new look to all our regulars and everyone who has booked celebrations with us."
Originally a family residence built at the height of the Georgian era, is now a small independent hotel situated in the quiet and peaceful surroundings of the old High Street in Fareham. It is easily accessible from the M27, junction 11. When the weather is warm you can also enjoy the tranquil surroundings of the garden terrace.
The restaurant grows it's own herbs and uses fresh produce from as many local suppliers as possible. Although we do not have leisure facilties on site, all our hotel residents can visit the local LA Fitness centre, just 5 minutes walk from the hotel. We offer high standards, fine food and excellent facilities, but most of all, friendly personal service delivered by a team of great people.
The house is a Grade II listed building, click on the link to see more details and is one of a number of listed buildings in that area. You can see details of all listed buildings in this area and further afield via this interactive link
Our thanks to Mike Cresswell for organising this event.
Probus Picnic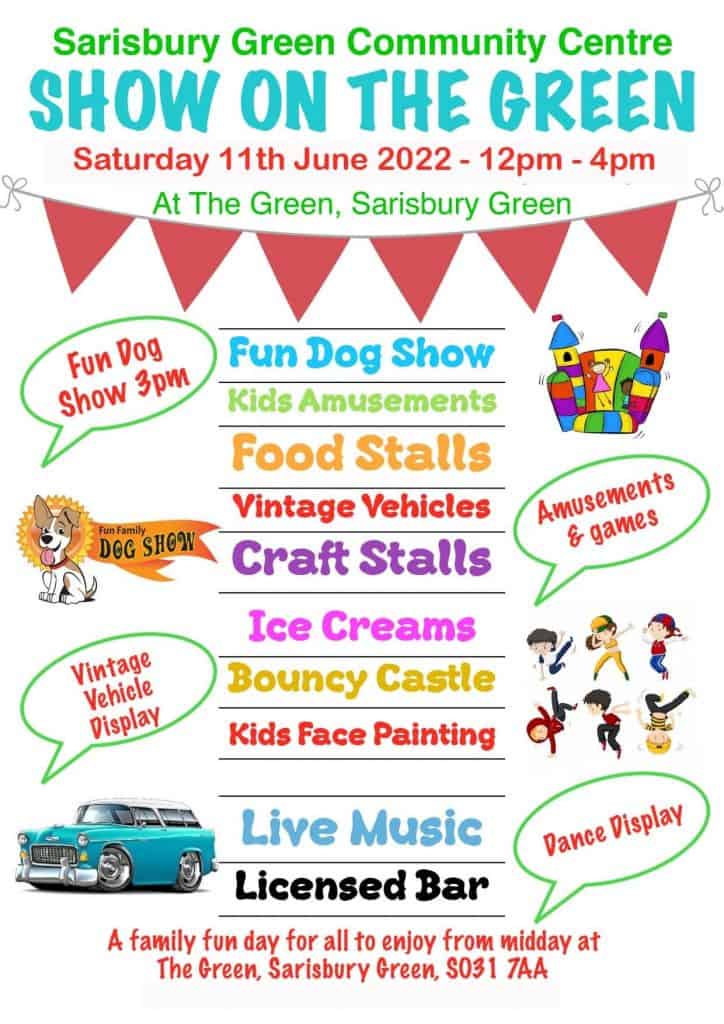 On a bright sunny day, Probus members, their wives and friends gathered at Graham Adams house for a cocktail prior to a "bring your own lunch" in the shaded garden. Whether the noise was due to the strength of the welcome drink or just due to the opportunity to meet up with friends not seen for many months, that's your guess not mine.
A magic show given by our own member of the Magic Circle, Mike Pinder, provided some light entertainment for all. It was also good to see John Robertson and David Hamilton-Rump attend the party in spite of being so unwell recently.
For many the lunch was a precursor to a visit to a very packed "Show on the Green" which was adorned with ice cream and burger vans doing a roaring trade as well as an interesting collection of historic vehicles. Plenty to see there for the whole family.
The only disappointment in the whole day…… I didn't see a single Probus member or their wife coming down the rather impressive slides!
Once again, our thanks go to Graham and family for hosting us.
Murder On The Orient Express" at Chichester Festival Theatre
Eight members and partners/friends enjoyed a very clever production which had the front of a full sized steam locomotive in the background.
The production began with a little girl tucked in bed by her nanny. There was a scream as a man appeared in the shadows and the bed and girl disappears. Cut to Istanbul where passengers are gathering in a railway café. None recognised a 'funny little man' with a 'silly moustache'.
Tablecloths were whisked away revealing luggage trolleys which become dining cars.
Everyone is aboard the legendary luxury train racing through a snowstorm getting to know the suspects. Poirot astutely tries to solve 'the most difficult' case of his career. Poirot showed a knowledge of Shakespear quoting from 'Hamlet' to reveal his own troubled soul and dilemma as he wrestled with his conscience. Poirot showed an intense moral sensibility as he 'solved' the case and created a solution.
The play had never been done before, and sound effects were well done, getting high praise in the review.

Group trip to Eastbourne – May 2022
Our first group holiday since the emergence of Covid, a group of club members and their wives embarked on a May excursion to Eastbourne.
The trip offered a visit to Great Dixter for a private tour of the house and an exclusive chance to wander round the superb renowned garden, designed by Sir Edwin Lutyens. This is the home of the late Christopher Lloyd OBE who devoted his lifetime to creating one of the most experimental gardens of our time.
Departing after lunch there followed a short trip by coach to the nearby Kent & East Sussex Railway station at Northiam, to catch the steam train to Bodiam, which then returned to Tenterden where we all enjoyed a cream tea whilst viewing the superb scenery of the Rother Valley and High Weald Area of Outstanding Natural Beauty.
The next day, a free day in Eastbourne, provided the opportunity to explore the museums and art galleries, shop, stroll along the promenade and visit the lovely Victorian pier with its new walkway and facilities.
The following day? A drive into 1066 country, with a combination of coast and countryside. Visiting Hastings, with ancient churches, buildings, unique fishing quarter, museums, antique shops, narrow streets and tea rooms. Continuing on to Rye, with its quaint cobbled streets and historic half-timbered buildings for free time before returning to the charming market town of Battle, with its Battle Abbey and Battlefield.
And on the last morning, time to return home after a wonderful few days and a return to group holidays, albeit in the UK. After breakfast we followed the coastal road through Newhaven and Peacehaven to Brighton for a lunch stop before continuing the home.
A wonderful break, an opportunity to meet up with other club members and their wives and a return to normality!
Lunch at Avenue 141
Thirty six members and widows enjoyed a very good on April 1st at Avenue 141 which celebrated forty years of Locks Heath Probus.
The food and good service were very much appreciated and there was a lot of social interaction which made a great change after recent times.
Mike Cresswell thanked members for supporting the event and Gavin Hamilton Fletcher thanked the staff and students for the excellent meal.

Unfortunately we had some absentees due to positive covid tests including our President ,Tim Mitchell.
Forthcoming Events
Details will be added as and when available
Speakers
The Worldwide System by Mike Pinder
A talk by our resident Magician, Hovercraft Pioneer, Dr Who actor and Writer with his latest book soon to be published, this talk would reveal another story to be covered in his soon to be published book.
As those of you who have read my article on Mike and his involvement with Hovercraft will realise, he is a man of many talents, an inventor and a pragmatist who can make things work, not to mention his on screen role in Dr Who all of which can be seen in the Probus article referred to above.
In the meantime, if anyone who was at the talk would like to send a summary to probuslocksheath@gmail.com I'd be very grateful.
HM Yacht Britannia by Dave Russell
A fascinating presentation at a vey poignant time in light of Her Majesty Queen Elizabeth's recent passing. As I was not at the meeting the following information is provided by Wikipedia.
Her Majesty's Yacht Britannia, also known as the Royal Yacht Britannia, is the former royal yacht of the British monarchy. She was in service from 1954 until 1997. She was the 83rd such vessel since King Charles II acceded to the throne in 1660, and is the second royal yacht to bear the name, the first being the racing cutter built for the Prince of Wales in 1893. During her 43-year career, the yacht travelled more than a million nautical miles around the world.
HMY Britannia was built at the shipyard of John Brown & Co. Ltd in Clydebank, Dunbartonshire. She was launched by Queen Elizabeth II on 16 April 1953, and commissioned on 11 January 1954. The ship was designed with three masts: a 133-foot (41 m) foremast, a 139-foot (42 m) mainmast, and a 118-foot (36 m) mizzenmast.
The top aerial on the foremast and the top 20 feet (6.1 m) of the mainmast were hinged to allow the ship to pass under bridges.
Britannia was designed to be converted into a hospital ship in time of war, although this capability was never used. In the event of nuclear war, it was intended for the Queen and the Duke of Edinburgh to take refuge aboard Britannia off the north-west coast of Scotland.
Now retired from royal service, Britannia is permanently berthed at Ocean Terminal, Leith in Edinburgh, Scotland. It is a popular visitor attraction with over 300,000 visits each year.
P is for Prostate by Alan Jones
Trying to be "correct", Alan said his talk was to those with a prostate. This prompted for one member to say he no longer had one !
He described, with the aid of 3D models (in the picture), the plumbing set up between the kidneys to outlet from the body, and how the prostate managed everything like it was Clapham Junction.
Rubber gloves, fingers, and our own President all helped get the message across!
The talk was very well received and prompted many questions at the end.
If you want further information on Prostate Cancer, you may find the following links useful:
From the New Forest to Salt Lake City by Gill Southwell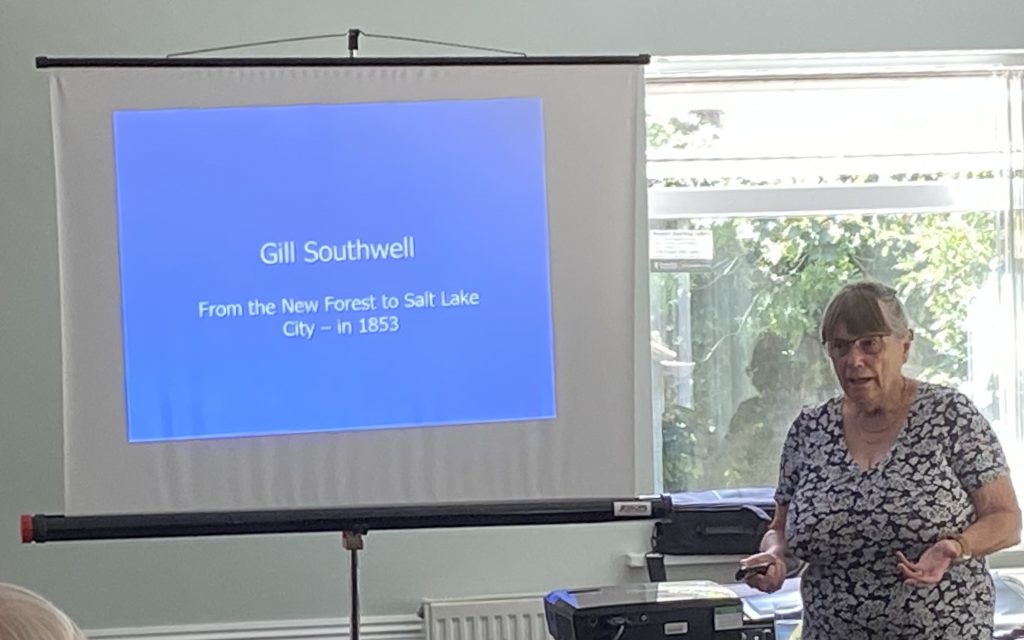 The audience may have been expecting a talk on the Mormons (which some of the members thought a strange idea for a Probus meeting), however the reality turned out to be completely different and a much more personal story.
Gill started by reviewing the history and beliefs of the Mormons and told how some of her ancestors did indeed become Mormons for a short while travelling to Salt Lake City in Utah. After a few years they left the Church of the Latter Day Saints and returned to the New Forest, but why? What was the story behind this?
Gill's ancestor, George Light and his wife Lucy Ann, had heard some of the Mormons preaching, which is what made them join the church and travel to Salt Lake City. The Mormons chose to settle in Utah, which in the early 19th century was not a part of the United States of America. Meaning that when church members were starting to find it difficult to live in the USA they could settle in Utah.
These journeys were very difficult in the early 1850s, but the family survived two transatlantic voyages (there and back) and the journey, by river boat and wagon train to Salt Lake City from New Orleans where they had landed in America. They completed the journey in reverse on their return to England.
It was Gill's interest in researching her family history and work done researching her ancestors, most of it initially online or in record offices, that led to her planning a visit to Salt Lake City herself. This enabled her to do further investigation into her family tree and verify her family connections providing interesting new information.
Her ancestors remained in the Mormons for only four years, but why? In 1856 the Mormons carried out their own census to make sure everyone was following the Mormon rules. They were also having difficulty maintaining food and water supplies. They only wanted true believers, most notably they insisted that men should have multiple wives.
Some did not agree with and left the church – among them was the Light family who returned to the New Forest. When settled again they joined the Anglican Church and were baptised.
Editor's Note: As many of you will know, the Mormon church is a great source of information if you are tracing your own family tree, I used it myself back in the 1980s to trace my own tree and was fortunate to come across a distant relative who had done much research before me and traced the family back to 1723.
The name Treagus itself is a derivative of Tregoze, which can be traced back to 1066 when Baron Tregoze came to England with his friend Will for a short holiday, the original name therefore coming from France.
Walking the Camino (Vic Bird)
Recently completed by Vic Bird and previously by Jim Dodd and Derek Treagus, walking the Camino is very much both a personal challenge and a personal achievement, but what are the origins of this walk?
In the 9th century the tomb of the apostle St James was unearthed in Compostela. The site became the focus of a pilgrim trail beginning in France and crossing Northern Spain to Santiago de Compostela.
While there are many different routes to Santiago de Compostela, the most well known of the Camino de Santiago walks (also known as the Compostela Trail or Way of St James) are in Spain and France. With so many options available it can be confusing for the modern day traveller to know exactly which one they should do.
Many Camino pilgrims choose to experience the final stage of the Camino de Santiago. Walking the last section of the Camino is very popular as it enables to collect your Compostela (Pilgrim's Certificate) as the Pilgrim's Reception Office, the official service behind Camino credentials, states that pilgrims need to walk at least 100km or 62 miles of the Camino de Santiago to be eligible for the Compostela.
Pilgrims are supposed to bring a rock along with them on their Camino, ideally choosing one from their place of origin. It seems as though this rock can represent a lot. Often, pilgrims carry a rock in honor of someone: someone who has passed away, someone they have lost, someone whose memory they hold onto.
The walk does not have to be completed in a set number of days but must, at a minimum, cover the whole 100km trail with proof provided by stamps added to your Pilgrim's Passport (at least two per day) which, along with your Completion Certificate, becomes a great memento of your journey.
You will meet many people on the way, exchanging the pilgrims call of "Buen Camino" with them all (the phrase means "Good Way: "Buen" meaning good and "Camino" meaning way). It's a simple, cross-cultural way to wish your fellow pilgrims well on their walk and return home with a terrific set of memories and achievements.
If you are interested, completed by Derek Treagus, Jim Dodd an fourteen other Pilgrims, you can find details of their Camino de Santiago walk in 2019 by following this link
The Children's Society by Ian Combs

Extracted from Wikipedia, this provides a very good summary of today's talk
The Children's Society was founded in the late nineteenth century by Edward Rudolf, a Sunday School teacher and civil servant in South London. Rudolf led a deputation to Archibald Tait, Archbishop of Canterbury to put forward a plan for the establishment of Church of England children's homes as an alternative to the large workhouses and orphanages common at that time.
In 1881, a new organisation was registered as the Church of England Central Home for Waifs and Strays, taking the name Church of England Incorporated Society for Providing Homes for Waifs and Strays in 1893. It kept this name until 1946, when the title was changed to the Church of England Children's Society and adopted the informal title of The Children's Society in 1982.
The first home was opened in Dulwich in 1882. Its success, together with a growing awareness of the scale of child poverty in England and Wales, led to the rapid development of The Children's Society. It moved to new offices at the Old Town Hall in Kennington Road in 1909. By 1919 the charity had 113 homes and cared for 5,000 children.
A main feature of The Children's Society's work was its insistence that children should not become long-term residents in homes, but boarded out, fostered or adopted. By the late 1960s The Children's Society had become one of the largest adoption agencies in the country.
In the late 1960s and the early 1970s, in response to the significant social changes of these years, The Children's Society moved away from centralised care, fostering and adoption work and focused more on preventative work designed to support children and young people within their own families and communities.
During the 1970s and 1980s The Children's Society introduced family centres throughout the country offering services such as advice centres, play groups, youth clubs and short term accommodation for young, single children. The society relocated from the Old Town Hall in Kennington Road to new offices at Kings Cross in 1986.
During the 1990s The Children's Society began focusing on social justice, lobbying to change legislation and welfare provision, and encouraging young people to speak and act for themselves.
The charity's direct practice now focuses on vulnerable children and young people aged 10 to 18 – including children who have been sexually exploited, children in care and young refugees. Its policy and campaigning work is informed by its direct practice, and by its extensive research on children's well-being, child poverty and adolescent neglect.
The Children's Society was rebranded in 2014 by London-based design practice SomeOne from a logo depicting a purple figure reaching for a star to the current black and white identity. The new look reflects the charity's belief of confronting 'hard truths'.
In 2017, The Children's Society launched a new strategy aimed at disrupting the cycles of disadvantage that prevent young people from thriving by 2030; an ambition that directly supports the vision and mission.
The charity has chosen to concentrate on young people aged 10–18 with many problems in their lives (or multiple disadvantage). The strategy focuses on using innovation to scale up impact through technology and learning, partnerships to leverage resource, and continuous improvement by becoming an agile and efficient organisation.
As well as supporting change at an individual level through its direct programmes of work, The Children's Society aims to effect systemic change by influencing legislation and government practice, and to effect a positive shift in public attitudes towards children and young people.
The Children's Society's strategy explores the complex challenges in young people's lives by focusing on three areas: risk, resilience and resources.
Risk: The threats and dangers to a young person's safety which could include neglect and abuse, exploitation and violence.
Resilience: A young person's capacity to respond to adversity at any given time which could include mental health or trauma.
Resources: The resources available to meet a young person's needs which could include family support, money or social support.
The Kings Theatre, Portsmouth then and now by David Allport
A very interesting talk with photographs of the area prior to and after the build and of the many stars who had appeared there over the ages.
For 110 years audiences have enjoyed musicals, plays, comedy, opera, dance, talks and film in the sumptuous surroundings of the beautiful Grade II* listed proscenium arch theatre, designated by the Theatres Trust as a 'theatre of national architectural importance'.
J W Boughton conceived and brought to fruition the building of the theatre which was designed by the notable theatre architect Frank Matcham. The theatre stayed in the control of its original owners, The Portsmouth Theatre Limited, until 1964 when it was purchased by Commander Reggie & Mrs Joan Cooper.
In 1990 it was sold to Hampshire County Council. In 2001, after a successful campaign by AKTER (Action for Kings Theatre Restoration) to keep the theatre open, the theatre was purchased by Portsmouth City Council and leased to the Kings Theatre Trust Ltd who undertook the restoration of the building, whilst the Kings Theatre Southsea Ltd operated it on a day-to-day basis.
The following extract from Wikipedia provides further information with links to relevant articles:
The theatre opened on 30 September 1907 with a production of Charles I followed by two further of Sir Henry Irving's Works. During the 1930s it was used to premiere several works by Ian Hay before they transferred to the West End including Orders Are Orders and Admirals All. The musical This'll Make You Whistle premiered there in 1935.
The theatre stayed in the control of its original owners, The Portsmouth Theatre Company, until 1964 when it was purchased by Commander Reggie & Mrs Joan Cooper. In 1990 it was sold again to Hampshire County Council. In 2001, after a successful campaign by AKTER (Action for Kings Theatre Restoration) to keep the theatre open, the theatre was purchased by Portsmouth City Council and leased to the Kings Theatre Trust Ltd who undertook the restoration of the building. The present day theatre has a seating capacity of 1600 and a computerised booking system. Much of the backstage area is still fully manual, allowing it to retain the tag of a traditional hemp house, though powered flying bars have now been installed to allow large-scale productions.
In 1974, director Ken Russell filmed the Pinball Wizard sequence of the rock opera Tommy at the theatre, featuring The Who and Elton John on the stage. He also managed to burn down the South Parade Pier whilst there, footage later used in the film!
And if anyone wants to the see the Pinball Wizard sequence from the film, just click here
Operation Pedestal – the third 1942 convoy to Malta by David Russel
A very interesting and detailed account of the challenges faced in keeping the island of Malta in British hands during the second World War, Malta has been an island fought over for many years due to its strategic position, but there has perhaps been no more important battle than this.
Whilst our talk concentrated on the detail of the attempt to land supplies on the island and prevent its capture, the suffering of the islanders themselves was immense, resulting in the island being awarded the George Cross by King George VI to "bear witness to the heroism and devotion of its people" during the great siege the islands suffered during the beginning of WWII.
You can see it today, immortalised into every Maltese flag as it is woven into the design in the top left-hand corner.
The following, extracted from Wikipedia, gives more details of the blockade, you also see the NAVAL HISTORICAL BRANCH INFORMATION BRIEF on Malta by following the link above.
The Siege of Malta in World War II was a military campaign in the Mediterranean Theatre. From June 1940 to November 1942, the fight for the control of the strategically important island of the British Crown Colony of Malta pitted the air and naval forces of Fascist Italy and Nazi Germany against the Royal Air Force(RAF) and the Royal Navy.
The opening of a new front in North Africa in June 1940 increased Malta's already considerable value. British air and sea forces based on the island could attack Axis ships transporting vital supplies and reinforcements from Europe; Churchill called the island an "unsinkable aircraft carrier". General Erwin Rommel, in de facto field command of Axis forces in North Africa, recognised its importance quickly. In May 1941, he warned that "Without Malta the Axis will end by losing control of North Africa".
The Axis resolved to bomb or starve Malta into submission, by attacking its ports, towns, cities, and Allied shipping supplying the island. Malta was one of the most intensively bombed areas during the war. The Luftwaffe (German Air Force) and the Regia Aeronautica (Italian Royal Air Force) flew a total of 3,000 bombing raids, dropping 6,700 tons of bombs on the Grand Harbour area alone, over a period of two years in an effort to destroy RAF defences and the ports.
Success would have made possible a combined German–Italian amphibious landing (Operation Herkules) supported by German airborne forces(Fallschirmjäger), but this did not happen. In the event, Allied convoys were able to supply and reinforce Malta, while the RAF defended its airspace, though at great cost in materiel and lives. In November 1942 the Axis lost the Second Battle of El Alamein, and the Allies landed forces in Vichy French Morocco and Algeria under Operation Torch. The Axis diverted their forces to the Battle of Tunisia, and attacks on Malta were rapidly reduced. The siege effectively ended in November 1942.[1]
In December 1942, air and sea forces operating from Malta went over to the offensive. By May 1943, they had sunk 230 Axis ships in 164 days, the highest Allied sinking rate of the war.[13] The Allied victory in Malta played a major role in the eventual Allied success in North Africa.
Old Wives Tales to Supercomputers – The Story of Weather Forecasting by Nick Hammond
Todays talk on the history of weather forecasting started with a Quiz of true or false? reality or old wives tale.
Red Sky at Night…….
When swallows fly high……
etc
We then moved on to the actual history of weather forecasting reviewing the early pioneers through to the publication of the first daily weather forecast in The Times in 1861.
Not to forget the creation of Beaufort scale – a scale of values, from 0 to 12, for describing wind strength, as defined by Admiral Sir Francis Beaufort in 1806 and adopted by the International Meteorological Committee in 1874. And something we are all familiar with today.
Similarly, we covered the classification of cloud types (first proposed by Luke Howard in 1802), the movement of winds around the planet and the beneficial effects that clouds have in maintaining global temperatures.
Weather forecasting has further changed as we have moved into computer generated forecasts based on a set of Numerical Weather computing equations. As computer power improves, surely forecasts will get better and be more accurate.
We all complain about weather forecasts and their accuracy as most notably demonstrated by the infamous Michael Fish (already featured on our website), but with ever increasing sensors, increasing computer power and our own increasing understanding of our plant, things can only get better.
Post meeting, Nick has kindly provided links to the videos he was unable to present
Speaker Schedule 2020/2021
Due to the Covid situation, the Speaker schedule is being updated on a monthly basis by Chris Collier, review the website for the latest information.
Write ups of recent talks can be found in the Recent Speakers section of this website.
| 2022 | | |
| --- | --- | --- |
| January | Unfortunately this meeting was cancelled due to the recent Covid surge | |
| February | Old Wives Tales to Supercomputers - The Story of Weather Forecasting". | Nick Hammond |
| March | Operation Pedestal - the third 1942 convoy to Malta | David Russel |
| April | AGM | |
| May | The Kings Theatre, Portsmouth then and now | David Allport |
| June | The Children's Society | Ian Combs |
| July | Walking the Camino de Santiago (plusRon Harrop on Voluntary contributions to charity) | Vic Bird |
| August | From the New Forest to Salt Lake City | Gill Southwell |
| September | P is for Prosate | Alan Jones |
| October | HM Yacht Britannia | Dave Russell |
| November | The Worldwide System | Mike Pinder |
| December | Cooking for the rich and famous, running Faulty Towers | Susan Howe |
| 2023 | | |
| January | Iron Age Events | Matt Russell |
| February | tbc | Gareth Hamilton-Fletcher |

Previous Excursions and Holidays
Club-organised holidays have included the following (see the Photo Gallery for a selection of pictures from some of these)
2019 River Cruise on the Danube
2018 Fred Ölsen Cruise to Norwegian Fjords
2017 Fred Ölsen Cruise around Scotland
2016 Lake Como in Italy
2015 River Cruise Strasburg to Saarbruken
2014 River Cruise from Provence to Burgundy
2013 Coach Tour via Santander Ferry to Northern Spain
2012 Coach Tour to the Harz Mountains in Germany
2011 Coach Tour to South West Ireland
Visits for members, wives, and guests have included:
Greenwich Park and Observatory
Houses of Parliament
Brooklands Museum
BBC London Studios
Winchester College
St. Cross, Tangmere,
RAF Museum,
Bletchley Park
Imperial War Museum
Wickham Vineyard
Isle of Wight Lifeboat Centre