Visit to the Morgan Factory
To go directly to Important Announcements Click Here
If network connected, you can see the video presented at our Ladies Evening stored on Dropbox outlining the Club's activities over the past twelve months. Pictures taken on the evening are available in the Photo Gallery section of this website and a review of the evening can be seen in the Recent Events section of this page along with reviews of our visit to Avenue 141, Probus Picnic, our visit to Lysses Hotel and our visit to Eastbourne. Details of Recent Speakers are also available via this link including all our speakers so far this year.
Ron Harrop has kindly provided some of his original stories published in the Club's Newsletter in the past, the first four of these can be viewed using this link.
Our Newsletters for December 2022, March 2023 and June 2023 and September 2023 can be seen by following these links (You can also see previous Newsletters here).
To view the September 2023 Probus Global Newsletter click on this link
Use the links in the list below to bypass Latest News and link to other sections of this page:
Finally, for easier navigation you can link directly to all sections of this site from here.
Important Announcements
Arts Society trip to the Holy Land
Jim has advised that spaces are available on the Arts Society trip to to the Holy Land due to late cancellations. The trip runs from November 9th through to November 18th.
Details have been sent to all members, please contact Jim directly if interested
Probus Lunch at Lycées Hotel 28th September 2023.
Please advise Mike directly if you intend to attend along with your choice from the menu
Ladies Dinner – Tuesday 14th November

The Ladies Dinner will be held on Tuesday November 14th 2023 at Warsash Sailing Club as in previous years. Cost Estimate is £40 per person, further details to be provided in due course
Avenue 141
A date has been booked for our next visit to Avenue141 in February 2024, details to be provided in due course.
Speakers: Wondering who the next speaker will be? look at the Speaker Schedule on this page for details of planned speakers, which contains recently updated information by our Speaker Coordinator covering speakers up to October 2023.
AGM
This years AGM was held in place of our normal monthly meeting for April with details distributed to members at the meeting. Details of this and previous AGMs are available in the Restricted Section of our website.
Other News
All club members are affiliates of the Sarisbury Green Community Centre and, as such, are entitled to discounts should they be attending any event there
You may be interested in the Probus Global website which provides a range of information including details of Probus Clubs around the World and access to worldwide Special Interest Groups, including Photography and Travel. You can find the latest Probus Global newsletter >here<
And finally, we would like to welcome all new members to our Club, details of new members are published in the Membership section of this website
Forthcoming Events

Chichester Festival Theatre
We are will back for 2023! Details as follows:
'The Vortex' on Tuesday, 16th May at 2:30pm
'Assasins' on Tuesday, 20th June at 7:30pm
'Sound of Music' on Tuesday 8th August at 2:30pm
'Quiz' on Tuesday, 26th September at 7:30 pm
'A View from the Bridge' on Tuesday, 24th October at 2:30pm
Please note evening and matinee performance times. All performances are in the front stalls.:
See also the Latest News section of the Website for more recent additions
An introduction to our President
Born in 1951 in East London, the oldest of 4 children, the family gradually moved further east into Essex and I attended grammar school in Romford.
Having gained some A levels I went to university and whilst studying, did vacation work for a life assurance company in the City of London. After graduation I was employed by the life assurance company and attained my accounting qualification with them.
Following the strikes and blackouts of 1974 the company relocated to Salisbury and we moved with them.
My 2 sons were born in Salisbury but following various company buyouts and takeovers we eventually moved to Fareham in 1987 – although now working for the enlarged insurance company Aviva which did however still include my original life assurance company from London.
Whilst in Fareham we joined the Hill Head Sailing Club and pottered about in a GP14
Both sons were in a local scout group and both my wife and I got involved as helpers, committee members and treasurer and I still do the accounts for the troop scout section
I also became a parent governor at Henry Cort Community School
On retirement from Aviva I was accepted as a magistrate – first sitting in Fareham and after closure of that court, then in Portsmouth.
I have been a member of Probus for a number of years, many on the committee as 'minute' secretary, then Vice President and now in 2023 as President
An Introduction to our Past President
Born 1939 in Karachi (India) to Scottish parents. Arrived in the UK in 1942/43 when my father was posted home. We lived at various RAF stations in the UK and when dad had another tour, in Egypt.
My family eventually took root in and around Blackpool where I attended a Secondary Modern School and eventually a Technical College where I gained a number of GCE's.
These GCE's were sufficient to allow me entry into the RAF as a RADAR mechanic and later as a fitter (engineer). My RAF career took me all around the UK and middle east working on aircraft and in the engineering workshops. I completed a tour in Germany after meeting and marrying my wife Eve who was at that time a member of the WRAF.
We had our first son in Germany and our second when we returned home. My final move in the forces was to RAF Boscombe Down where I first headed up a team to bring into service the MARTEL air to ground missile and when that was completed I moved to carry out RADHAZ testing on various aircraft and equipments.

After 22yrs service and the end of my career in the service, I obtained a job with the then 'Plessey Assessment Services' carrying out EMC testing and moved to our present address in Sarisbury Green.
My passion has always been the sea and we have owned a number of sailing yachts which we have cruised locally and to the near continent. Unfortunately, old age has meant progressing to a power boat, which at least keeps us on the water.

I have been a member of Probus for a number of years, many of these as Treasurer and lately as Vice President and now in 2022 as President.
Richard
Recent Events
"The Sound of Music"
Around 30 Probus members and friends enjoyed a matinée performance of "Sound of Music" at the Chichester Festival Theatre. It was a packed out performance and finding a parking space nearby challenging. . Despite seeing the film countless times this show was quite different. Additional songs that may have been in the original, but dropped for the film, had been included.
Whilst there were several aspects that did not match the time period around which the original movie was made and cast the (for example the seven children did not look like they had the same father) this had no impact on the performance which was enjoyed by all those present.
The acting and singing by the whole cast was brilliant as were the scenery changes. Many of us had the opportunity to go behind the scenes a few weeks a go and saw costumes, wigs and backstage staff and viewed the mechanics of moving scenery and centre stage lifts.
Visit to the Morgan Motor Factoty
Visit to the Morgan Motor Company I think everyone loves a Morgan motor car, especially those of the older generation. I suppose you could say it is nostalgia for our youth.
A group made up of Probus and The Arts Society members took a full coach to Malvern on Tuesday 15th August to see the manutacture of these wondertul cars. Alter a short stop we arrived in Malvern about mid-day where we all found various establishments for our lunch. We quickly made our way back to the coach and after a short journey we arrived at the Morgan Motor Company only a mile and a half outside the centre of Malvern.
The factory on this site has been manufacturing cars for over 100 years. We were met by two tour guides who split us into two groups to take us around the factory. We walked the production line getting within metres of the manufacture. The production is very much old school with each part of the manufacture being done within individual spaces and as necessary the car being moved around. What was nice to see was that when a bell rang the whole factory stopped for tea break!

There is no speculative construction. Each car being made was for a particular customer who had not only chosen the type ot car but had also made their selection of colours and tinishes. We could see the great pride being taken on every aspect from the metalwork to the woodwork. We were all tempted but I don't think that anybody made a purchase and unfortunately we did not
have enough time for a test drive. Maybe some will come back for that.
James Fox
Note: The following text extracted from the Company's Website provides background to what was covered on the visit.
The Morgan Motor Company welcomes over 30,000 visitors from around the world to tour the factory each year. Each one of those visitors gets within metres of the vehicles being crafted, as they walk the production line. The experience of a Morgan factory tour is unparalleled within the automotive industry, with visitors being able to immerse themselves in the production process.
The Morgan Experience Centre is situated on the same site as the factory and is where your Morgan experience will begin.
The Morgan Experience Centre is home to a range of other visitor attractions including sports car hire, experience drives, the Morgan Experience Café, the official Morgan shop and interactive museum, The Archive Room.
The authenticity of Morgan, one of Britain's longest established motor manufacturers, has remained unchanged for more than 110 years: from design and engineering, to craft and manufacturing, through to sales and tailoring, every Morgan is designed and built to be as individual as its owner.
Now in their fourth generation, the Morgan family continue to act as stewards for the brand, upholding the values of the company and ensuring their family legacy lives on with each new Morgan produced. The Morgan family retain a shareholding of the company, alongside majority shareholders Investindustrial, who announced in 2019 that they would be investing heavily in the Morgan Motor Company and its long-term future building cars in Britain.
Each Morgan is hand crafted using three core elements: ash, aluminium and leather. Every car is entirely unique, built to the highest standards by passionate craftsmen and women, whose skills are handed down through generations and perfected over a lifetime, bringing together heritage, innovation and cutting-edge technology.
The question is whether any of our visitors were tempted to add themselves to the waiting list?
Summer Picnic
The summer picnic took place on Saturday 10th June at 201 Barnes Lane SO317BA to coincide with the Sarisbury Show on the Green just a five minute walk away.
On a beautiful summer's day, the Probus annual summer picnic was once again held at Graham Adam's house and garden. Over 40 Probus members and partners arrived to a welcome Pimm's in the garden.
As the delicious Pimm's was replenished, there was much laughter and chatter as members and wives engaged in cheerful conversations and shared anecdotes and jokes on Graham's shaded terrace and sunny garden lawn.
The lively conversations continued as members and wives retired to the picnic tables set out in Graham's large garage and front drive to enjoy their picnic food and drink.
A magic show given by our own member of the Magic Circle, Mike Pinder, entertained and amazed members and wives at each of the tables.
After the picnic, many of the members and wives strolled up to the "Show on the Green" on Sarisbury Green to explore the many different stalls in the sunshine and inspect the fine collection of classic cars on display, including Gareth's classic MG TF.
After another successful Probus summer picnic, our thanks go to Graham and family for hosting this memorable event.
Avenue 141 – March 2023
Yet another opportunity to experience the wonders of Avenue 141 thanks to Mike Cresswell.
The event provides not only an excellent opportunity to savour some high quality food in a relaxing environment with members, their wives and friends, but also (and perhaps most importantly) the opportunity for students to gain real first hand experience of working in the catering industry.
A two or three course meal followed by coffee and the opportunity to savour a glass or two of wine, all at a very reasonable price.
What could be a better way to spend a Thursday lunchtime? And should you want to see what you either had to eat or missed, the menu can be seen by clicking here
Ladies Dinner 2022
On a quiet November evening the Probus Club of Locks Heath held its 2022 Ladies Evening at the Warsash Sailing Club, a wonderful venue as demonstrated by the fact that this was our second consecutive Ladies Evening here.
As with all such events, it provided a terrific opportunity for members and wives to meet-up and exchange experiences. The general hubbub, seeing groups of people talking to others and renew old acquaintances was a site to see. Also a great opportunity for our new members and their wives to get to know everyone.
A high quality meal was accompanied by a slide show bringing back memories of events held over the past year demonstrating the range of activities and events in which members have participated in over the last.
And finally, a short recital to round off the evening.
Our thanks go to Tim and all those involved in organising the evening.
If network connected, you can see the video presented at our evening stored on Dropbox outlining the Club's activities over the past twelve months. Pictures are available in the Photo Gallery section of this website
Lunch at Lysses Hotel, Fareham
A wonderful lunch in an historic Grade II listed building in Fareham enjoyed by all who were present. That just about says it all! Photos can be seen in the Photo Gallery section of this website, just click on the link to see them. To enlarge an individual photo simply click on the individual Photos that you wish to see in more detail. Read on to see more about the hotel and that particular area of Fareham's cultural heritage.
Lysses House Hotel
In the heart of Fareham, Lysses House is an elegant Georgian hotel on the High Street in Fareham.
The hotel closed its doors on the 26th October 2012 for 2 weeks to undertake a major refurbishment of the lounge, bar, main feature stairs and reception area. The bar area underwent a major change with some of the original Georgian ceiling being restored. The reception area also underwent a transformation with a smart new reception desk.
To quote the hotel, "It is time for a change and a fresh new look, whilst still keeping the original Georgian feeling of the building. It will be lovely to show off our new look to all our regulars and everyone who has booked celebrations with us."
Originally a family residence built at the height of the Georgian era, is now a small independent hotel situated in the quiet and peaceful surroundings of the old High Street in Fareham. It is easily accessible from the M27, junction 11. When the weather is warm you can also enjoy the tranquil surroundings of the garden terrace.
The restaurant grows it's own herbs and uses fresh produce from as many local suppliers as possible. Although we do not have leisure facilties on site, all our hotel residents can visit the local LA Fitness centre, just 5 minutes walk from the hotel. We offer high standards, fine food and excellent facilities, but most of all, friendly personal service delivered by a team of great people.
The house is a Grade II listed building, click on the link to see more details and is one of a number of listed buildings in that area. You can see details of all listed buildings in this area and further afield via this interactive link
Our thanks to Mike Cresswell for organising this event.
Speakers
I. K. Brunel – Graham Walters
A very detailed and interesting presentation taking the audience through the career of our subject and his very many engineering successes as well as those that he would perhaps not want to remember.
A Victorian engineer who was one of the main architects of Britain's industrial revolution. He was famous for his pioneering work on Britain's railways and ships. He built railways and designed bridges, tunnels, viaducts and passenger ships and today's talk gave us an insight to them all.
Brunel made outstanding contributions to marine engineering with his three ships: the Great Western (1837), Great Britain (1843), and Great Eastern (originally called Leviathan; 1858), each the largest in the world at its date of launching.
He was responsible for the construction of the Thames Tunnel, the Great Western Railway and the Clifton Suspension Bridge and so much also designing the Temple Meads Station in Bristol and Paddington Station in London.
A man with so influential in the world that a University is now named after him, there is much more history then can be covered here or in a single presentation and much of it is available online if you're interested in following up. The selection of links below will provide you withe plenty of further information.
But finally, our thanks to an excellent speaker and a very interesting presentation

Bursledon Brickworks – Richard Newman
Richard gave a fascinating and very interesting and entertaining talk about Bursledon Brickworks, it's history and perhaps more importantly it's saving from being demolished.
Rather than add my own comments on the talk, I'm adding the introduction given on the Bursledon Brickworks website, no doubt well worth a visit when you get the chance
To see Richard's Document detailing the Overhead Ropeway that used to exist at the Brickworks referred to at the meeting click the highlighted link above.
Bursledon Brickworks was founded in 1897 by the Ashby family. The Ashbys were partners in Hooper & Ashby, successful builders merchants in Southampton. They also made bricks. The first brickyard was at Chandlers Ford but when an opportunity to start making bricks at Bursledon arose they jumped at it. There was abundant clay at the new Bursledon site and very good transport links by both rail and river.
The clay was originally dug by hand in pits close to the buildings. The clay pits were deep – nearly 40ft – and very extensive. The clay was brought back to the factory using narrow gauge railway wagons but eventually the pits were too far away for this to be practical. Mechanised digging started in the 1930s. As time passed the clay was worked out further and further away, finally being brought to the works on a overhead cable system from the clay pits ( see picture at left ), now the lakes that form the Swanwick Nature Reserve.
The original 1897 works (the southern complex) was added to in 1903 with the addition of the northern complex. This was further extended in 1935. With the extra capacity, the brickworks was producing in excess of 20 million bricks a year. They were one of the main producers of bricks in the region.
Bricks were made during the Great War and the Second World War. Brick making was considered a reserved occupation but production was dropped to a lower level and the Ministry of Defence requisitioned parts of the site during both wars. After the Second World War the family business was amalgamated with the Sussex and Dorking Brick Company and in 1959 became Redland Holdings Ltd. The site closed in 1974 for a number of reasons, the M27 split the site in two, the clay was getting very expensive to extract.
However, probably the main reason was the introduction of the Health and Safety at Work Act. What makes the Brickworks so unusual is the fact that they were not updated during their working life. Turning them into a modern plant that could meet the safety requirements would have been almost impossible. The factory slowly ran down, first to go were the clay diggers and last the kiln burners. But eventually the last kiln chamber was emptied and a new chapter for the history of the factory started.
In 2012 the museum was awarded a Heritage Lottery Fund grant of £666,300. This grant was awarded to help create the museum. Bursledon Brickworks Museum Trust was registered in 2015 and now runs the museum. Volunteers with the help of part time 'staff' currently run the museum. The volunteers carry out most of the restoration work and help to man the site when the museum is open. The museum is completely independent and relies on visitors for its income.
Richard has kindly provided us with three more related documents which you can see here:
View from the Wings by Brian Freeland
If you're looking for backstage gossip then this is the talk to go for. It's developed from my experiences with everything from variety (Butlin's Holiday Camps and the London Palladium) to the Royal Shakespeare Company, the National Theatre, Scottish Opera and Sadler's Wells Ballet. The stage manager's view from the prompt corner is very different to that from your comfortable seat in the stalls or circle. Reality theatre; no retakes. And as the review indicates – slightly saucy.
Brian Freehand gave a very entertaining talk to Probus at July's meeting.He gave numerous anecdotes collected from his time in the theatre, both on stage and 'In The Wings' with many well known personalities in the 50's, 60's and seventies.
He had played many roles – particularly comedy. Of all the personalities he worked with he considered Tommy Trinder to be the best. Kind, considerate and companionate, unlike many of the others.
Brian's career started in 1959, direct from National Service, as a trainee manager at the London Palladium and it has taken him to 43 different countries including 3 residencies in the Middle East, 8 tours of the Indian sub-continent and around the globe twice. Approaching retirement, he branched out into directing amateur dramatics, writing scripts and giving talks – and finally found time to write his long-promised autobiography called "Meanderings: a River and a Life".
Judy Theobold – Life of a Journalist
Judy gave started with a summary of how she became a journalist and wrote a many poems, many of which were published. At questions at the end, she was asked about Pam Ayres the well know poet. A totally different persona was the opposite of Pam Ayres' public one. Quite abrupt and gave single blunt one word responses to questions.
The talk was amusing and very well received and efforts will be made to hear another of her talks.
Judy had also written a poem that was read out during the talk.
Poem for Probus
For many years I've talked to groups,
Some large and some quite small,
From Rotary to Inner Wheel,
I've spoken to them all.
Among them are the Probus Clubs
And as the years go by,
I've noticed age, like beauty,
Lies in each beholder's eye.
For in my early speaking days
The Probus Clubs, to me,
All had a lower entry age
Of roughly ninety-three,
But as the years have staggered by
You know to be quite truthful
I've stayed the same as ever
But your Clubs have got more youthful.
Once  I scanned the room and saw
A sea of aged faces,
But now I find young striplings
Have moved in to take their places.
Once talking to the Probus
Was like talking to my Dad,
But now I look around and think,
Cor blimey, he's not bad.
The rule is fairly general
It isn't just our cops,
Our teachers and our doctors
Need to prove their age in shops
If they want to purchase alcohol,
And something I've just found,
The Archbishop of Canterbury
Still has a paper round.
The face that's in the mirror
Is the face I've always seen
Give or take the spectacles
It still looks seventeen
And when I'm at a Probus Club
The only thing I see,
Are other youthful people
Who are just the same as me.
Judy Theobold - June 2023

Nelson "Then and Now"
An interesting, enjoyable and very funny talk contrasting life on board the Victory at the time she was sailing with what would be allowed today! (more to be added later) starting with a quiz and ending with a resume of naval slang and their meanings.
Although not necessarily the same as defined by our speaker, the derivation of so many things that were part of naval slang now in our everyday language is quite extraordinary
Turn a blind eye: This expression is believed to come from the siege of Copenhagen (1801), in which Lord Horatio Nelson, second in command of the English fleet, was ordered to withdraw but pretended not to see the flagship's signals to do so by putting his glass to the eye that had been blinded in an earlier battle.
Sling your hook: This term has a nautical origin. Hook was a name given to the ship's anchor, and the sling was the cradle that housed the anchor. Therefore, to sling your hook meant to lift anchor, stow it and sail away.
It's not over till the fat lady sings: This originates from sailors on shore leave in days gone by. Steam was the agent of propulsion, and the boiler was affectionately known as the "fat lady". The boiler had to be stoked to build up a head of steam for the ship to leave port. When sufficient pressure had been generated the whistle blew. The "fat lady" had thus sung, to signal to the sailors that their run ashore had ended.
Son of a gun: originated in the British Royal Navy during the 1800s, when Naval officers were allowed to have their wives accompany them to sea, and babies born aboard ship were delivered in the spaces between the broadside guns. The term applied to boys born at sea and was slightly contemptuous.
Show a leg: originated in the British Royal Navy around the turn of the 19th century.Sailors were roused from their hammocks by the call "Show (or shew) a leg". The appearance of a leg indicated that the mariner was awake
The Story of Calshot by Colin van Gefen
A very interesting and well presented talk, rather than trying to write my own summary of the history, I'm including information from Wikipedia, followed by a very interesting article that I found when searching the web which pretty much summarises the talk today.
In 1539, Henry VIII ordered the construction of Calshot Castle, at the end of Calshot Spit, to defend the port of Southampton from attack. Its strategic importance continues to the present day, and there is still a military presence in Calshot, though the castle is no longer a manned fort.
Calshot is particularly notable for its role in the development of aircraft and flying boats. In 1913 the Royal Flying Corps established Calshot Naval Air Station (later known as RNAS Calshot and RAF Calshot) at the end of Calshot Spit. It was also at one point home to Lawrence of Arabia.
But it's history goes far beyond that, the following extracted from Flickr provides a comprehensive overview of the site followed by pointers to some other related sites, most notably an article on Calshot in Medieval times.
Calshot Spit and Calshot Castle, Hampshire, England by G.Knowles
Calshot is a coastal village in Hampshire, England at the west corner of Southampton Water where it joins the Solent. The first thing passengers on the ships that approach Southampton Waters notice is the tall tower which is the Coastguard Tower which stands proudly next to Calshot Castle.
Calshot was first mentioned in history in 495 AD when it was related in the Saxon Chronicles that a Saxon chieftain had landed somewhere between Lepe and present day Calshot with five ships, this was believed to have been Cericesora, the landing place of Cerdic, a name similar to that used in the manorial roll for the site
In 980 Henry VIII was famous for his dissolving of the monasteries and being excommunicated by the Pope so he decided that Calshot would be a perfect place to construct a castle, which would govern the approaches to Southampton, which during the 15th and 16th centuries deemed to be the third largest Port in England, and it was believed that the French and Spanish were ready to invade England and this seemed a likely place, and this castle would link in well with the other castles at Netley and St Andrew's on the common at Hamble.
Calshot Castle was built in a strategic location at Calshot Spit to protect the entry to Southampton Water and the third largest port of the time. Calshot Castle was constructed from Portland Stone and stones quarried from the former Beaulieu Abbey in 1539. It was designed with a three storey keep and a circular structure to counter new and improved cannon fire.
During the reign of Elizabeth I, Calshot Castle was damaged in a fire and required some 130 oak trees for its repairs. In 1585 the start of the 80 years war, an artillery garrison comprising seven gunners and one master gunner were stationed at Calshot.
Two years later with the execution of Mary, Queen of Scots, Roman Catholics across the world were outraged. Her claim to the throne was passed to Philip II of Spain who was granted Papal authority to overthrow Elizabeth I. Repairs at Calshot were ended in 1588 in time for the threat of the Spanish Armada. Despite this rebuilding,
Calshot Castle survives in much the same state as that in which it was first built.
Calshot is notable for its role in the development of aircraft and flying boats. In 1913 the Royal Flying Corps established Calshot Naval Air Station ( later known as RNAS Calshot and RAF Calshot ) at the end of Calshot Spit. It was also at one point home to Lawrence of Arabia.
At the outbreak of WWI, the Schneider Race went on hold. The defence of the English Channel would be headed by Calshot and Dover. Calshot Castle now housed the officers' mess and it was from here that new recruits were trained. Calshot had now become an important base with new buildings of offices, hangars and workshops.
In 1927, Flight Lieutenant Webster won the Schneider Cup Competition clocking in a speed of 281.65 mph in a Supermarine S5. The win also granted England the right to hold the next Schneider Competition. The 1929 race took place in the Solent while the teams were based at Calshot. So far, Britain and Italy had taken the title three times, America won twice and France once. This time it would be won by flying officer, H.R.D. Waghorn who flew a Supermarine 6 at a speed of 328 mph.
The original hangar from the World War II flying boats remains as an activity centre for water sports ( including kite-surfing ), climbing, snowboarding and track cycling. There is a small velodrome for the cycling, a small practice slope for practising board tricks, and recently improved facilities for climbing and bouldering. The centre offers residential and visitor courses. Next to the hangar is a dinghy marina. The approach road passes on the landward side of the spit and there are many beach huts. The spit comprises a flint pebble structure more than one km long. Between it and the main shore is a salt marshy area with a wealth of wildlife and birds.
Although the Fawley Power Station is no longer with us, there are are still spectacular views at night of the Fawley refinery lit up. On a clear day, the Spinnaker Tower in Portsmouth can be seen to the east, and the Hamble estuary, to the north.
The following links provide further background on Calshot
Scuba-Diving by David Hamilton-Rump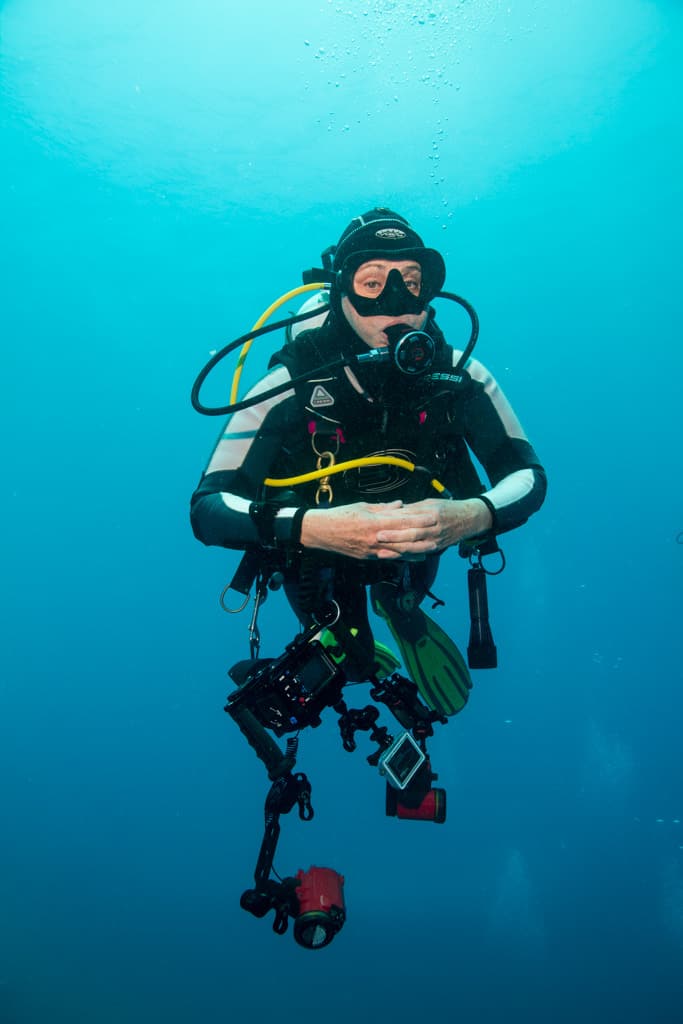 Diving really started in the time of the Pharaohs, back many thousand years BC. This was free diving on a single breath diving down to take peals and Red Sea Coral from the sea bed some 10m depth for up to 4 minutes.
Later on about 330 BC at the time of Alexander the Great the idea of diving bells were considered. More recently Diving Bells were invented in Europe for various purposes, but mainly for salvage from wrecks. In 1690 , Edward Halley built a wooden bell with lead weights and a glass window and used small barrels which could be pulled inside to release fresh air. Halley could dive his bell down to 60ft for 90minutes. Then John Lethbridge built in 1715 a diving dress or capsule like a horizontal barrel, with a window and leather sealed arm holes. This enabled him to successfully salvage large amounts of treasure from various wrecks, including 3 tons of silver from a Dutch ship
The first workable diving helmet was developed in 1828 by John and Charles Deane from their copper smoke helmet with a leather jacket rivetted to it, and a pumped fresh air from the surface via flexible tube. In 1836 , John recovered timbers guns and long bows from the wreck of Henry's Mary Rose in Portsmouth harbour. This helmet was improved by a colleague , Augustus Siebe , and mthis version became widely used in the Navy and Commercial firms for salvage operations.
The first practical rebreather was invented by Henry Fleuss, who also worked for Siebe Gorman & Co in 1878. His device scubbed carbon dioxide from the exhaled air which was then remixed with more oxygen from a tank into the rebreather bag. This enabled divers to swim underwater without being connected to the surface. Much development took place during WW2, to equip military divers with this close circuit rebreathers that didn't emit any bubbles.
In 1943 Jacques-Yves Cousteau with Emile Gagnan invented their Aqua-Lung open-circuit bubble emitting system with an improved demand regular with compressed air in ex WW2 aircraft oxygen cylinders. So started the sports diving with a safe simple system, commonly referred to as Scuba Diving.
Iron Age Events by Matt Russell
Our speaker, Matt Russel is based on the South Coast of England and has spent many years travelling the UK and Europe taking part in Iron Age events with a local Iron Age group. With the introduction of Pre-History into the Key Stage syllabus, "Experience the Iron Age" provides Iron Age workshops for schools to hire and have the Iron Age arrive for a day of hands on learning and fun.
As well as school workshops Experience the Iron Age has also developed a range of displays, activities and presentations that suit varying public events and sites.
From small scale displays with talks, to larger displays with activities for children, these options are ideal for indoor environments such as museums or education centres.
For outdoor events we have larger displays with the intention of giving a glimpse of life in the Iron Age.
Finds such as the Battersea Shield, the Kirkburn Sword and the Winchester Hoard all give a glimpse into the past of a people who, in various tribes, inhabited much of what we now call Europe.
Sadly the Iron Age tribes appear not to have developed a written language. It is possible they used "spoken word" in memorised form to recall the past. Therefore we rely heavily on the writings of some Greek and Roman observers for information as well as the archaeological finds.
In the past they have provided services to the British Museum, Chalke Valley History Festival, Arts University Bournemouth, Red House Museum, Fishbourne Roman Villa and many more.
Overall, a very interesting and thought provoking presentation. For further information refer to Matt's website Experience The Iron Age
Speaker Schedule
The Speaker schedule is updated regularly by Chris Collier, review the website for the latest information. If you have suggestions for Speakers, contact Chris directly.
Write ups of recent talks can be found in the Recent Speakers section of this website.
| 2023 | | |
| --- | --- | --- |
| January | Iron Age Events | Matt Russell |
| February | Scuba Diving | Gareth Hamilton-Fletcher |
| March | Story of Calshot | Colin van Gefen |
| April | AGM | |
| May | Nelson - Then and Now | |
| June | Life of a Journalist | Judy Theobold |
| July | View from the Wings | Brian Freeland |
| August | Bursledon Brickworks | Richard Newman |
| September | I.K. Brunel | Graham Walters |
| October | Mary Rose Tour | Dawn Perrier |
| November | My year as our Mayor | Michael Ford |
| December | RMS Titanic | Nick Hammond |

Previous Excursions and Holidays
Club-organised holidays have included the following (see the Photo Gallery for a selection of pictures from some of these)
2019 River Cruise on the Danube
2018 Fred Ölsen Cruise to Norwegian Fjords
2017 Fred Ölsen Cruise around Scotland
2016 Lake Como in Italy
2015 River Cruise Strasburg to Saarbruken
2014 River Cruise from Provence to Burgundy
2013 Coach Tour via Santander Ferry to Northern Spain
2012 Coach Tour to the Harz Mountains in Germany
2011 Coach Tour to South West Ireland
Visits for members, wives, and guests have included:
Greenwich Park and Observatory
Houses of Parliament
Brooklands Museum
BBC London Studios
Winchester College
St. Cross, Tangmere,
RAF Museum,
Bletchley Park
Imperial War Museum
Wickham Vineyard
Isle of Wight Lifeboat Centre