You can link directly to other sections of this page here:
As well as link directly our new sections Memories and Our Members
A Message from our new President
This is Tim with his wife Liz. They were married 57 years ago.
Good fellowship is the Probus toast. But Covid made that hard to nigh impossible for the last year. So our President, Lionel Jacobs has had to endure a stressful and frustrating year. Our thanks and sympathy go to him from all of us. Throughout our committee has been amazing and it seems invidious to single out anyone.
However I would like to say a special thank you to Colin Smith, our Secretary, and Derek Treagus, our webmaster for doing so much for us all. And to Chris Collier for arranging Zoom talks and discussions.
But what of the future? Our priority must be to get things up and running again, as soon as the virus and lockdowns allow.
I hope we shall be able to resume our monthly meetings from 5th July when hopefully we shall all be able to meet face to face again
We are already giving thought to organising some day trips to interesting places, accompanied by our wives/partners.
It may be too early to consider our longer holiday trips, such as the cruises organised by John Robertson and before him by Chris Collier. But they must be resumed as soon as possible.
Our summer party is ready to go thanks to Graham Adams and provisionally set for 14Th August
and last but not least we are already planning to hold the Ladies Dinner again, probably in November.
Meanwhile we are slightly below our full complement of members and it would be good if we could recruit new blood. Suggestions would be most welcome.
I look forward to seeing you all in the not too distant future. Meanwhile here's to Probus and Good Fellowship.
Tim
A message from our Past President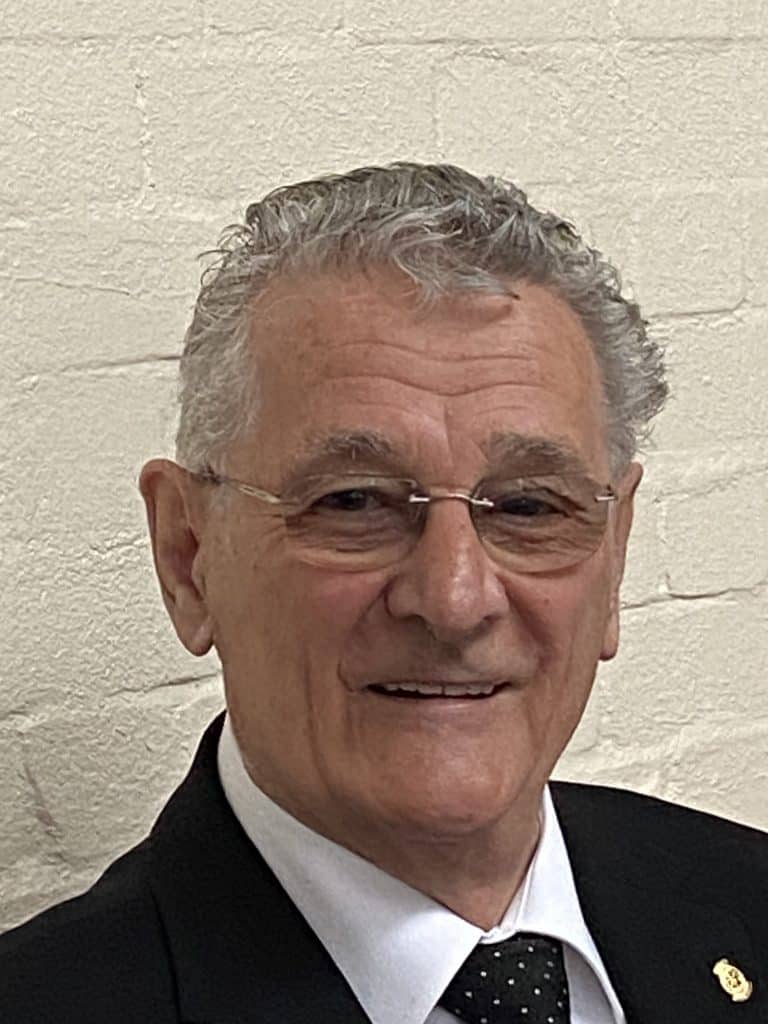 On behalfof all the members of the Probus Club Of Locks Heath, I would like to take this opportunity to say a very sincere thank you to Graham for the wonderful way he has conducted the business of the Club over the past year.
It was unfortunate we were unable to hold our AGM as planned. I was therefore unable to stand up at club and thank Graham personally for all the help given me over the past year and all the work he has done for the Club.
Graham has been a first class president, pro active and has great enthusiasm in everything he does. He has supported every function the club has put on over the past year, he has opened his home on two occasions for club functions and has offered his home once again for our Summer Garden Party in 2020. Surely this is beyond the call of duty. Thank you Graham for a wonderful year.
The other person I would like to thank on your behalf is our secretary Colin. He has done an incredable amount of work over the past year and particulary in the past month. What would we do without him. Colin thank you for all you do for the club it is much appreciated.
It could be a number of months before we will be able to meet again as a Club. I am sure the next weeks and months will be very difficult and trying for us all. Unfortunately most of our members are in the wrong age group which puts us at risk more than most. I will try and keep in touch with as many members as possible but if you do find yourself with a problem and need help please give me a
ring and I will do whatever I can to help.
Finally, our Website is a useful source of information and will be updated regularly. It can also be used to share any items or news that you feel is relevant to other members. If you have items or news that may be of interest, please send them directly to probuslocksheath@gmail.com
Please look after yoursclves and take care.
Lionel
And a Message from our Preceding President
Gill and I moved into Sarisbury Green in January 1986 and at that time we had a flat near my office at New Malden Surrey and only used the house at weekends, we also had a boat on the Hamble River. We found having three places to rest our head and maintain too much to cope with so we gave up the flat leaving me with a journey to work of a seventy five mile each way four or five times a week.
My going to the office in later years reduced down to once or twice a week although I was in contact with my daughter who was running the business on a daily basis. Gill and I found ourselves so busy with work, boating and touring in our old cars that we had very little time to integrate into the local community. When the pressure came off as we had sold the boat and business we were not quite so busy.
We had naturally developed a group of friends locally and very very much enjoy their company but it has been PROBUS that has given us an additional interest. PROBUS created a regular monthly get together for lunch with a speaker, the opportunity to help organise events, visits to local and not so local places, trips to the theatre and many other chances to meet local residents.
It has been the getting to know other locals that we have appreciated most of all we don't mean living in each other's pocket but to see and be recognised at the shopping centre with the occasional good morning see you at lunch on Thursday all go to make you feel part of the community, that is something that our lives in Sarisbury Green had been lacking until I was invited to join Probus Club of Locksheath.
Thank You PROBUS.
Graham Adams
Click to see a full list of Past Presidents
New Members
The photos above are from the New Members Welcome held on December 20th 2019, you can also find them in the Photos section of this website.
New members are asked to provide a short resume as well as doing a two minute introduction at their first Probus meeting as an 'official member'
Carl Nolan
I was born in Cheadle Cheshire and moved to the Isle of Wight when I was 11 years old with my family. Apprenticed as a Marine Engineer in J S Whites. I became interested in cars and spent hours helping in a body repair shop.
I played guitar in a band first in local youth clubs, then dance halls, Piers, Clubs and eventually Holiday Camps. The cash allowed me to buy and sell a few cars. At the end of my apprenticeship, with the help of my father I bought an old builders yard and converted it to sell cars with a workshop behind
Married to Jeanie in 1966, I built up the business over a number of years and in 1973 I bought my first dealership in a very run down garage on the outskirts of Newport. I built a new workshop and converted the original garage to a showroom.
I joined Round Table in 1974 and made many lifelong friends.
I had several car franchises, opening two further outlets all on the Island. The business was sold to Snows Motor Group and sold the business, retiring age 50.
By then, both daughters had moved away so Jeanie and I went sailing. We downsized and moved to Warsash joining the Sailing Club where we made more friends. Sadly, my wife passed away 18 months ago.
My thanks for the invitation to join the Probus Club of Locks Heath, I look forward to meeting fellow members over the coming months.
Chris Walters
I was born in Surrey with two brothers, but my younger brother, sadly is no longer with us. I'm married to Sue, with two children Nigel at Bristol, and Karen in Sarisbury Green. With three Grandchildren, two at University and the other one a Project Engineer.
I started work at Sainsbury's for thee years but I was more interested in the Soft Drink Trade, so I progressed to Canada Dry, Corona then Showerings makers of (Babycham), Coca Cola and finished up at Vimto Soft Drinks as a Territory Manager for twenty years before retirement.
I've been in various U3A's for fifteen years, currently at Eastleigh District, run a 2nd Walking Group, Ten Pin Bowling, Genealogy, Saturday group and Poetry. I play out door Petanque at Portchester and am a member of Hampshire Genealogical Society. I retired from Beekeeping five years ago having done that for thirteen years.
I am ooking forward to becoming an active member and meeting other club members.
Mike Pinder
I was born in Wimbledon at the start of WW2. After the war ended, we moved to Sutton in Surrey and then to Send near Woking. I went to a preparatory school in Sutton, opted to go to a secondary school in Send, then passed into Guildford Technical School before going up to Guildford Technical College. I was selected to go on one of the first Diploma in Technology sandwich courses sponsored by Esso. I then worked in Esso's head office in London. I built many storage and distribution facilities throughout the UK and invented a system for moving large oil storage tanks on air cushions.
I made my own inflatable hovercraft in the spare bedroom. This worked very well, so I decided to put it into production. I left the largest company in the world and set-up the smallest – Pindair Ltd. We started in London but soon moved to Gosport, to be next to Portsmouth Harbour. We designed and built a range of small hovercraft, which we sold to seventy countries but were forced into voluntary liquidation during the recession. I then licenced my designs to two other companies and worked for a company moving heavy loads on compressed air cushions. I was the founder of The Hovercraft Museum Trust and collected over 50 hovercraft which are now on display at the former HMS Daedalus. I have written a book about hovercraft – due to be published soon.
I have also written and published a book about the measurement, management and government of Time and Space in the past, present and future. I have given many talks and lectures of this subject and have been on a number of radio and television programmes.
I have performed magic for many years and was president of The Associated Wizards of the South, founded by The Great Houdini.
Anna and I have lived in Warsash for 45 years. We are members of Warsash Sailing Club and Sarisbury Green Arts Society.
I was a member of Locks Heath Rotary for many years and was president twice but, in my eightieth year, have decided to move to Probus.
Doug Eason
Doug started his introductory talk by thanking members of the Probus Club of Locks Heath for the warm welcome he had received both on the day and at his previous meetings as a guest.
Doug is a local from Sholing who attended Sholing Infant and Junior Schools before moving on to Bitterne Park. Leaving school, rather than joining the family business, he was apprenticed at Thornycroft (later to merge with Vosper to become the Vosper Thornycroft we are all familiar with today).
In 1974 he left to join the family business Eassons, a local coach company which many Probus members will be familiar with (could the history of the company be a possible Probus talk?). He is still remembered by old customers who regularly stop him in the street to reminisce.
He has been president of the Local Rotary Club and says says that "thinking friendly" is one of his key objectives in life. He is looking forward to meeting members of the club over the coming months.
Tony Hall
Born in Bury, Lancashire in 1941. I attended Bury Grammar School from kindergarten through to sixth form. I studied Chemical Engineering at Birmingham University, graduating in 1962. I met my wife Judith at the university and we married in 1964. We had 3 children and now have 7 grandchildren.
I started work for Esso at Fawley refinery as a young engineer giving technical support to the operation of the catalytic cracker. I was involved in one of the first two trials in the UK of computer control of the operation of a refinery/chemical process. I left Fawley in 1966 as I decided I wanted to work for a contractor to the oil and petrochemical industry to be involved in the design, rather than operation, of plants. I spent most of my further career working in the London office of MW Kellogg, the US based contractor. I later became a Fellow of the Institution of Chemical Engineers and a Chartered Engineer.
We bought our first yacht in 1976 which we based in the Solent. We did quite a lot of local sailing and every summer holiday we sailed with our three children to north and south Brittany, Normandy and the Channel Islands, usually in company with other yachts of friends.
I took early retirement in 1999 and we moved to our present house here in Sarisbury Green in 2000. After just 3 months, we set off from the Hamble to the Mediterranean in our yacht Mora. We decided to head for the Med as we are both interested in history and antiquities, it was the first of many adventures!, however have now decided to give up our long sailing career and have put Mora up for sale after 30 years of ownership.
We have been members of the RAF Yacht Club in Hamble for about 35 years and will continue to meet our friends there. We both enjoy travel and gardening and I still do DIY. I look forward with anticipation to interesting meetings with Probus.
If you, like Carl, Chris, Mike, Charles, Doug, Joe and Tony would like to be a member of our club, you can find an application form at the end of this section or click on the link here
Committee
The club is run by an elected committee
Main Committee
President
Tim Mitchell
Vice President
Richard Aitken
Past Presidents
Lionel Jacobs
Graham Adams
Secretary
Colin Smith
Speaker Coordinator
Chris Collier
Website and News emails
Derek Treagus
Visits Coordinators
Mike Cresswell
Graham Adams
Assistant Secretary
Howard Parrett
Treasurer
Tony Hall
Ad Hoc Committee
Ladies Dinner Organiser
Chris Collier
Theatre Visits
Peter Ellerton
Summer Event Organiser
Graham Adams
Lunch / Dinner Visits
Mike Cresswell
Holiday Organiser
John Robertson
Constitution
You can download a copy of the constitution from here.
List of members
Please contact the club secretary or email probuslocksheath@gmail.com for a list of current members

Application Form
New members are asked to provide short background details by printing out and filling in this application form.