You can link directly to other sections of this page here:
Events
Chichester Festival Programme 2019
Note that whilst these reports appear here in the Archive section Of the website, they can also be found on their own page here linked directly from News and Events
Macbeth at the Chichester Festival Theatre (by Tim Mitchell)
On Monday 14 th October around twenty Probus Club of Locks Heath members of went to see Macbeth at the Chichester Festival Theatre.
Unusually the theatre was only two thirds full. John Simm played the lead very well as did Dervia Kirwin as Lady Macbeth.
Much of the casting was odd. Several men were played by women. One Scottish Lord was played by a large woman of colour! (In Shakespeare's time all the parts were played by men so maybe they're trying to redress the balance.)
The dialogue of several actors was hard to hear particularly during the first half. Most of us found the second half clearer and easier to follow. As usual the staging was clever and imaginative.
Overall an interesting if rather challenging evening!
OKLAHOMA' at the Chichester Festival Theatre (by Tim Mitchell)
On Tuesday 3rd September 2019 some 30 members, wives and friends went to Chichester to see their latest production of 'Oklahoma'.
I much preferred this latest version. It was full of song and dance and energy. The dancing particularly was very high standard.
The show was originally written at a time when social attitudes were different and it does not do to dwell too much on the social and moral issues of the villain/victim, Jud, who was played this time, rather oddly I thought, by a handsome black man with an excellent voice.
Suffice to say that this was not as dark as the previous production and was overtaken by the energy and excitement of the music and dance.
This time the audience left happily, with smiles on their faces and tunes in their heads.
Plenty at the Chichester Festival Theatre (by Tim Mitchell)
The Probus party was rather smaller than usual to see Plenty at the Chichester Festival Theatre on Monday 24th June.
If it had been on tv or at the cinema it would have carried a warning about strong language, nudity and adult scenes! But it was not salacious. It was a bit hard to follow and disturbing; as the audience left at the end they seemed rather subdued.
The plot involved a young English girl who had survived harrowing times behind enemy lines in the Second World War. This profoundly disturbed her life and the lives of everyone with whom she was involved after war ended. So pretty intense stuff.
Our next excursion is to Oklahoma, which should be something of a relief.
Shadowlands at the Chichester Festival Theatre (by Graham Adams)
Eighteen of our members and Ladies went to Chichester Theatre on Tuesday 21stMay to an outstanding performance by the cast of Shadowlands.
Was it provocative or offensive is a matter of personal opinion but undeniably it was a superb performance lead by Hugh Bonneville. The tragic love story of C S Lewis and Joy Gresham was not only captivating but beautifully presented.
The line between provocation and offence is a very fine one however the audience was spell bound throughout with just enough humour to provide light relief when necessary. Gill and I loved it and we think everyone should at least give it a try.
Thank you Peter for organising the tickets.
You can return to the top of this page by clicking here
Guest Speakers
Madeline Salvetti presenting "Royal Mistresses" at the October meeting
Madeline started her talk by referring to the theft of a ring from Goodwood House given to his mistress by Charles II and proceeded to take us through a long history (too long to detail here!) of mistresses of royalty, famous characters from history and some of our more recent celebrities.
In the course of our travels through time we learnt about the "escorts" of individuals from Nelson (Emma Hamilton) through The Black Prince (Joan of Kent) and Charles II (Nell Gwynn) to Edward VII (Lille Langtry).
Adding in links to Princess Diana and David Cameron during her talk, Madeline moved on to the dalliances of political leaders and current celebrities, referring in passing to the wifelets of the Marquis of Bath (seventy six at the last count).
A fascinating talk and a great insight to "how the other half live".
Derek Treagus, 3rd October 2019
Dr Tim Mason presenting "The Polio Story" at the August meeting
Dr Mason a retired lecturer from Portsmouth University returned to the club to give another fascinating talk based on his experience as a specialist in biomedical science. The minute polio virus lives only in humans and enters the body from infected water or faecal contamination of food. Rapidly one virus can become 10,000 as it multiplies in the throat and descends into the gut to enter the lymphatic system and blood stream. For most (more than 90%) it is a mild enteritis with no lasting ill effects. Others less fortunate can have spinal motor nerves affected leading to muscle paralysis to varying degrees (hence the name infantile paralysis). Most serious is the damage to chest muscles with serious breathing problems. The development of the "iron lung" was to save many lives.
The growth of bigger cities with inadequate sewage disposal gave rise to many more cases in recent times with severe epidemics. Better sewage disposal and food hygiene and swimming bath chlorination all helped to reduce cases. Rehabilitation was improved with muscle exercises and care at such centres as Lord Mayor Treloar hospital.
However the real wish for modern scientists was to develop a preventive vaccine with the earliest ones coming in 1935. By 1950's two American researchers were approaching success, namely Salk and Sabin; one with killed virus basis and the other with attenuated live vaccine. After various modifications, because of viral mutation, and then large patient trials (especially an enormous one in Russia) the way forward became clear and world wide immunisation programmes were made possible. Gradually a reduction from 350,000 cases annually in 1988 occurring in 125 countries was reduced to 33 a year in 2018 in only three countries; Nigeria, Afghanistan, and Pakistan. Dr Mason concluded this comprehensive lecture with his exciting prediction that very soon Polio would be eliminated from the world.
Howard Mowbray, 1st August 2019
Nick Rose presents on Hearing loss and Hearing Aids at the July meeting
Nick Rose outlined his career starting at Amplifon, followed by the Audiology Department at Boots, and eighteen months ago decided to go it alone, now based in Portchester.
His opening slide was of a hearing aid of the 1970's, almost as large as the ear, emphasising how things have changed over fifty years. He summarised clearly and simply how the ear works, and how most of us will experience some hearing loss as we age. Using an audiogram contrasting normal hearing with someone with moderate to severe hearing loss, Nick showed what we lose, birdsong, the ping of a micro-wave, and aspects of speech. Vowel sounds and voiced consonants may be unaffected, but we struggle with unvoiced consonants which contain higher frequencies, leading to hearers complaining of a speaker 'mumbling'.
Modern hearing aids come in different forms and functionality. Many leave the ear as open as possible letting in sound normally, others are 'in ear' and more discrete. Both leave what works alone and compensate for weaknesses. The digital electronics revolution has transformed hearing aids to marvels of miniaturisation and capability being fully programmable to each individual. Options now include rechargeable hearing aids, aids that can be programmed remotely, aids that answer your smart phone, aids that let you know where you might have left one (though being able to trace ones movements seems not to have been popular!). Hot off the most recent list is a manufacturer who claims an aid which can translate a foreign language into English. Nick concluded his talk emphasising how different we all are but with technological and audiological advances hearing aids are now very versatile being tailored to the individual.
Nick then invited questions. There was a lively question and answer session, ranging from the importance of lip reading, intelligibility in a 'hubbub', performance in responding to the sound of music, the limitations of sound settings for smart TV's, the apparent shortage of audiologists, and of course the cost of modern aids.
To close John Campbell proposed a vote of thanks for an excellent and very well received talk.
J K Hammond, 8th July 2019

Colin Orpe presented on Deck Operations for Royal Navy Aircraft Carriers at the May meeting.
Today's talk was related mainly to Deck Operations from RN Aircraft Carriers.It started however with the life of Rex Arnold of Fareham, youngest son of Rev Arnold, HolyTrinity Church Fareham, during WW1.

Rex became a pilot in the Royal Naval Air Service, RNAS, in 1914. He served throughout the war finishing in 1918 as the Commanding Officer of 79 Squadron, RNAS, deployed to Belgium. He was awarded several medals for bravery, DSC, DFC, etc., died 1954 and as an Ace Pilot was buried in Westminster. His two elder brothers served with the Army and were killed in France, -their names are recorded on the Fareham war memorial.

Videos of WW2 and later RN aircraft were shown – their operational use being described – particularly that of the attack by 21 Swordfish Aircraft from HMS Illustrious on the Italian Fleet at Taranto in 1940.

Videos were shown of the complex operation of launching heavy Aircraft from the short deck of an Aircraft Carrier. They included the work of the young, highly disciplined deck crew in cramped, extremely noisy and arduous conditions in all weathers – beneath the engine running aircraft!

Finally a brief mention was given of the entry into service of the new Aircraft Carrier and the Carrier's aircraft.
Picture shows a Buccaneer Aircraft landing on a Carrier deck.
You can return to the top of this page by clicking here
Brenda Magretts presenting "Lost Souls of WW1" at the Probus Club of Locks Heath March meeting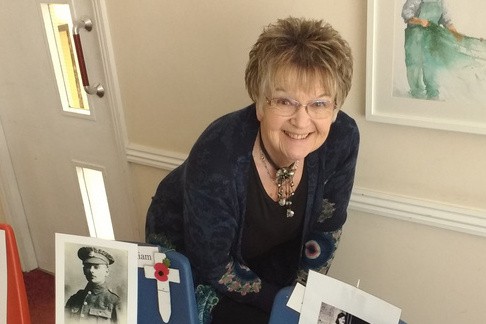 An interesting and evocative presentation on the real cost of World War One and those "Known only to God".
World War 1 began on July 28, 1914. The conflict lasted four years, three months and 14 days, ending on November 11, 1918.
The war began because of the assassination of Archduke Franz Ferdinand of Austria. He was heir to throne of Austria-Hungary.
Over Eight million soldiers died in World War 1, and another 21 million were injured. A staggering 65 million soldiers were mobilized during the war.
For anyone interested in this subject, the following document held in the Hampshire record office may be of interest
Hampshire First World War Archive
You can return to the top of this page by clicking >here<
Visits
Lunch at Avenue 141 (by Derek Treagus)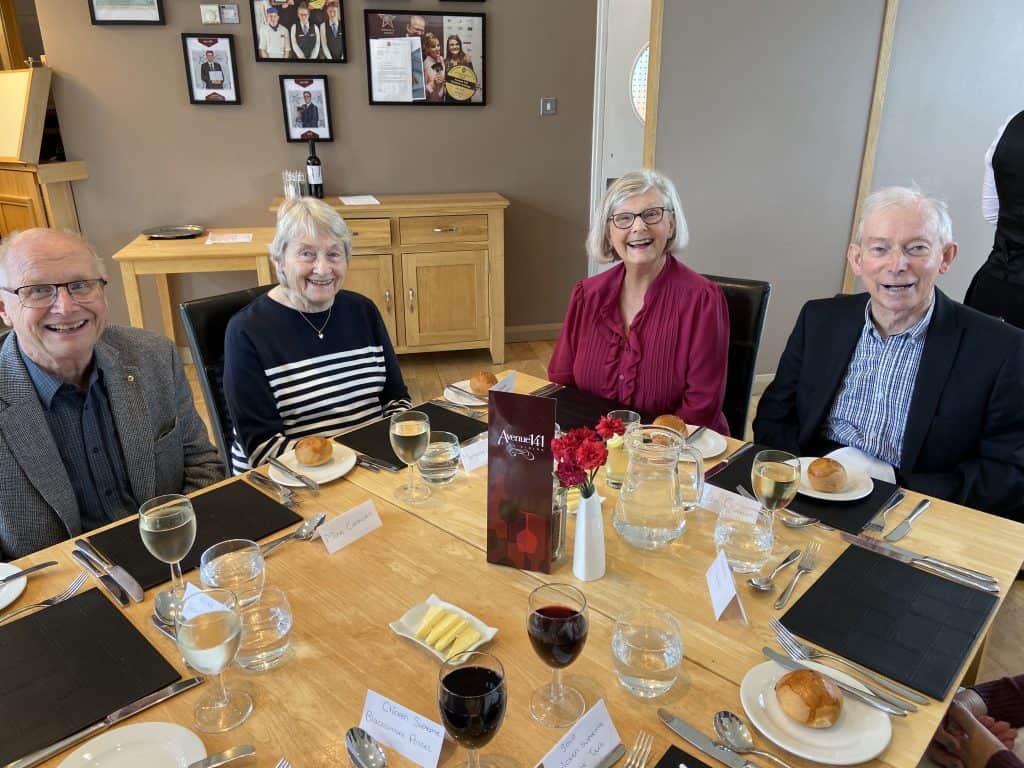 A group of twenty eight Probus members, wives and guests made our second visit of the year to Avenue 141 on Friday October 25th.
Avenue 141 provides students studying at Fareham College with the opportunity to practice the skills they are learning on "real customers".
As always (we have had several Probus meals there before) both the food and service were excellent and the event provided an opportunity for everyone to catch up on happenings since the Summer Lunch.
A thoroughly enjoyable afternoon. Our thanks go to Mike Cresswell for organising this event.
Exbury Gardens

A group of 18 Probus Club of Locksheath members and friends visited Exbury Gardens on Wednesday 24th April. We started the day with a hot drink to ward off the inclement weather, however the periods of rain were short and kept the crowd away leaving the gardens and cafe almost available for our exclusive use.
Some of us used the buggy some the train and others walked. The rain had washed the flowers and the colours were outstanding. We were able to reserve tables in the cafe so we all sat together for lunch. After lunch some of our group returned to the Gardens while others purchased plants from the garden shop.
Visit to Rolls Royce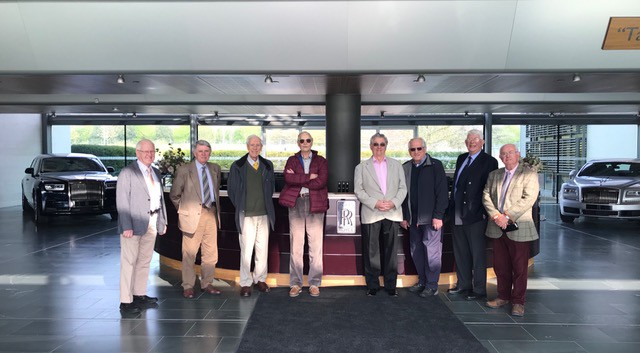 We were taken into the production area and shown how every car was produced to an individual specification, no two cars were the same. The attention to detail was outstanding. After the tour we had lunch at a Pub.
We were taken into the production area and shown how every car was produced to an individual specification, no two cars were the same. The attention to detail was outstanding. After the tour we had lunch at a Pub.
We then visited a specialist classic car restorer and were able to see the very different skills required for restoring the previous generations of Rolls Royce cars.
RNLI Poole
An informative and interesting visit to the RNLI in Poole on March 27th organised by David Olley.
The RNLI first established a lifeboat station at Poole in 1865 and lifeboats at Poole have been launching into one of the largest natural harbours in the world for 150 years, providing a lifesaving service for Poole Harbour and surrounding waters.
Today, the station has both an inshore lifeboat, launched from a floating boathouse, and an all-weather lifeboat. The crews have been presented with 22 awards for gallantry.
No new volunteers to join the Lifeboat team today though!
Avenue 141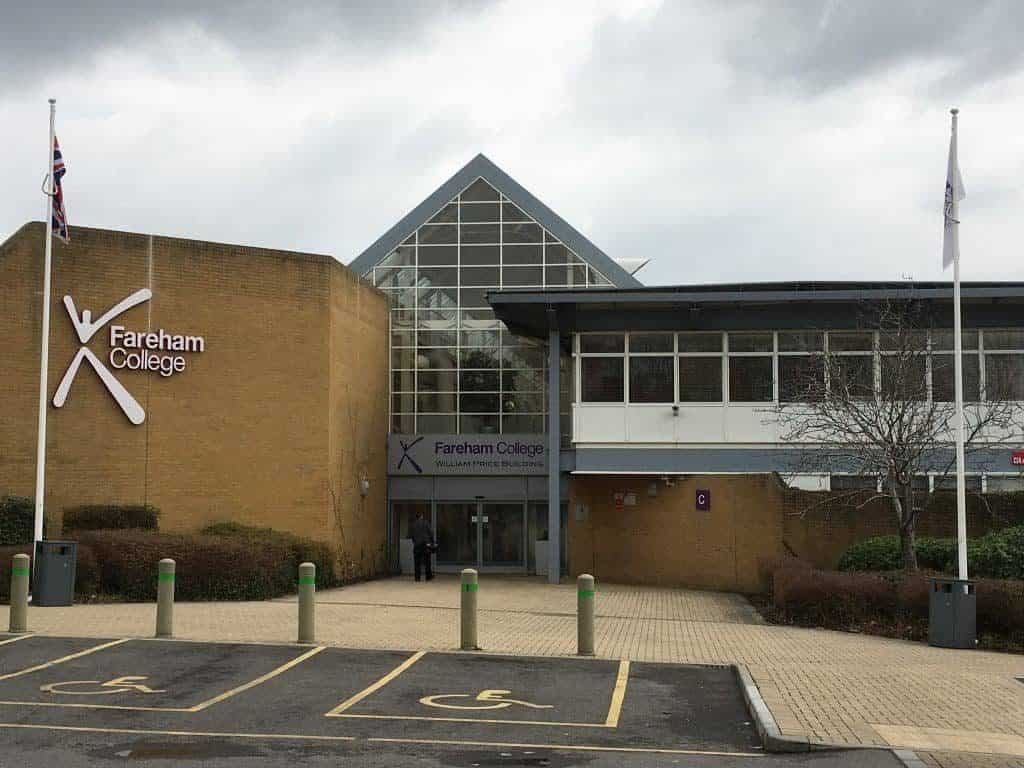 Lunch at Avenue 141 on St David's Day And no daffodils on the menu….. a terrific lunch and, of course, a great opportunity for the students to develop their skills. We shall undoubtedly be back for more in the near future (as indeed we were).
Many thanks go to Mike Cresswell for organising this event.
You can return to the top of this page by clicking here
Miscellaneous
This section contains miscellaneous items which may be of interest to Probus Club of Locks Heath members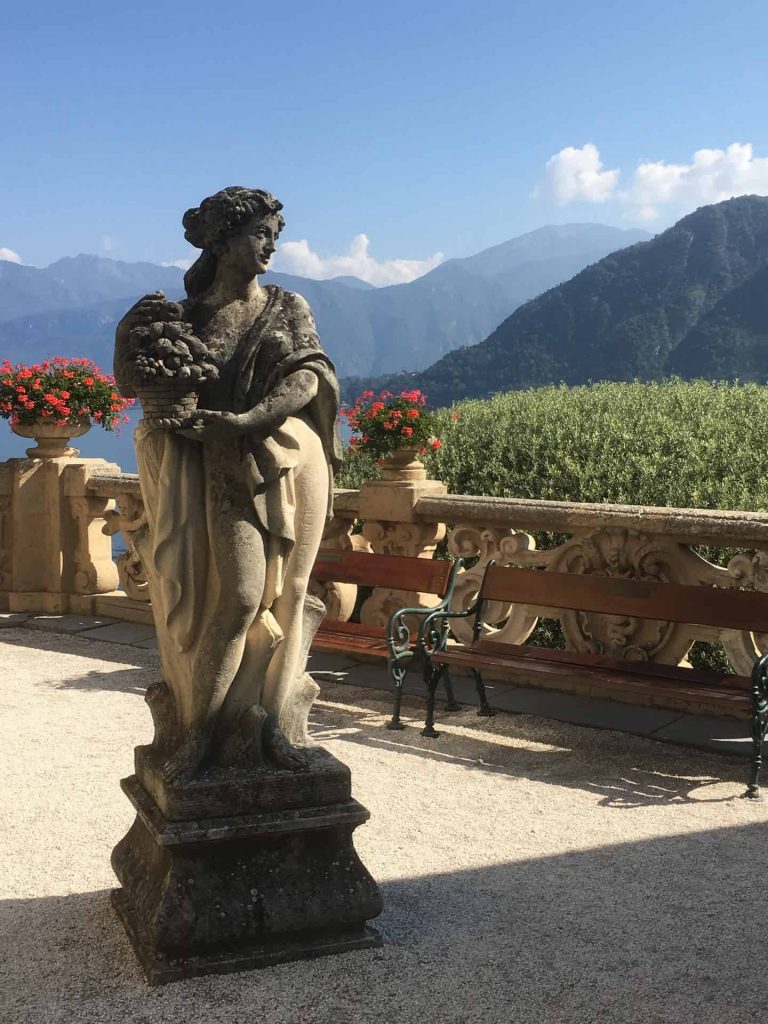 You can return to the top of this page by clicking here
You can see the Probus Global Newsletter by clicking here