This section (mirrored in the main section of the site)is designed to introduce our members to those who are new the Club. All contributions welcome, please send you details and a photo to probuslocksheath@gmail.com
You can link directly to members stories here:
Martin Moore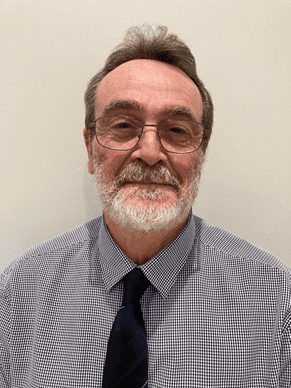 I was born in Hemel Hempstead and then moved to the East Midlands. For the past 35 years I have lived in Warsash.
My interest in the sea began when I was14 and I went to HMS Conway for 3 years.In 1971, I joined the Ocean Steamship Co. sailing on general cargo ships to the Far East and West Africa. In 1978 I transferred to container ships sailing on the Liverpool Bay class ships from Southampton to the Far East. My first command was Liverpool Bay with P&O Containers.
Following a number of take-overs and mergers, I was employed by Maersk Line retiring in 2018 after 20 years as Captain.
I met my wife at the College of Maritime Studies when I was taking my Masters. We were married in 1985, and Warsash became my home. Our son and daughter grew up here and have since moved away from the area.
Ron Loveless
I was born in 1942 at Sway in the New Forest. I attended Ashley Secondary School and, to my father's dismay, I left with no qualifications.
I became a radio and TV engineer in Lymington where my first job was repairing wind-up gramophones, then the first transistor radios and TV's.
After my apprenticeship finished, I joined Mullards / Philips in Southampton as an electronics engineer. I obtained an HNC in electronics and became a Fellow of the Institute of Electrical Engineers. At Philips I specialised in instrumentation, running a department involved with National Standards. As you can see, I was what they refer to as 'a late developer'!
In the meantime Sandy and I got married and we have two daughters. We have lived around the Southampton area, spending the last twenty years in Barton on Sea/ New Milton. In August we moved to Locks Heath to be nearer to our family.
Anyway back to my career, I took advantage of a management buyout scheme setting up a business with two other directors in Romsey. I became the Company Secretary and Sales and Marketing Director which resulted in quite a learning curve, as you can imagine.
The company expanded quickly with laboratories in Chesterfield, Newcastle and Cardiff with a staff of 100 and turning over in excess of 3 Million p.a.. The company was eventually bought by a major U.K. engineering company who allowed me to carry on in my role.
On my first retirement, many of our major clients persuaded me to start up my own business which I did. I bought a company 'off the shelf' where you inherit the name which in this case was Fantime. Sandy always said it sounded like a business selling party balloons not calibration! I enjoyed this new situation for 3 years before retiring properly and getting down to the important business of playing golf 3 times a week.
From an early age, I spent most of my spare time playing all types of sport with cricket being my main passion. During this time I filled most official positions in club sports from President, Chairman, and various committee positions which I enjoyed.
Since retirement I have been involved as Chairman and Trustee to the New Forest and Hampshire Citizen's Advice Bureau. In all the situations in which I have been involved, I, along with some marvellous people, I have organised fund raising activities generating thousands of pounds for various charities. In the past few years my wife Sandy and I became involved with The Alzheimer's Society and we ran a monthly group providing entertainment and afternoon tea for people with dementia and their carers.
See if you can spot a reference to Ron in this link
Ian Stephens
My name is Ian Geoffrey Stephens and I was born in Ealing, London W5 on 30th October 1947. My early education was in Hanwell W7 and at the age of 13 my parents bought a small holding in Milford on Sea. I finished my education at Ashley County secondary school leaving at very short notice at the age of 15 to help on the farm when dad hurt his shoulder falling from a horse.
I had various jobs mainly driving until starting work on the Hants & Dorset buses as a conductor based in Lymington in 1969. In September 1970 I passed my driving PSV test and worked on the buses transferring to Southampton depot in 1973 and staying until 1979 when I went to work for Eassons Coaches (Doug Easson).
I stayed with them until 2013 doing a variety of coach work including school runs, works contracts, private hire and holiday tours all over the UK and lots of Europe.
Doug and Ralph Easson retired and sold the business to Coliseum coaches who I worked for until I retired from full time but continued driving part time for Coliseum, Princess and Angela coaches before fully retiring in November 2018.
A very responsible job that I enjoyed for a total of almost 50 years. (but no gold watch.)

Nick Hammond
I was born and raised in East Anglia on my father's smallholding. He was an engineer but also looked after 13 acres, a dozen pigs, several hundred chickens and a few cattle as a hobby. I didn't much care for school and was a lot happier outdoors tending the animals. I failed my 11 plus but then went on to became head boy of my Secondary School, where I was lucky to have an inspirational Physics teacher who encouraged me to aim for university.

He and I hitch hiked to the Italian Grand Prix in 1970 where I fell in love with Italy and Alfa Romeo cars.
I got into University where I graduated with a degree in Electrical/Electronic Engineering. I then went to Teacher Training College and qualifies as a Physics and Outdoor Education teacher. That summer I secured a place with Camp America and spent my summer holiday as a Pioneer Leader at a summer camp in Massachusetts. Happy days.
My first job as a teacher was at well known, liberal minded school in Totnes. It is now closed!
I then became a Housemaster at a boys' boarding school in North Wales teaching Physics and Sports. That school is now also closed! My final teaching job was in Crediton during which time I stumbled upon Royal Navy trainees visiting Exeter Quay on Picket boats for a weekend expedition. They were clearly having a lot more fun than I was so I decided there and then to join up. That was in 1980, and with hindsight I should have joined after, or before, university.

After completing basic RN training I was posted to HMS xxxxxxx. A fellow adventurer and myself planned and executed a 3-week expedition to Nepal for a trek in the Annapurna foothills. More happy days. I then went to sea in HMS xxxxxxx where I discovered the world of military meteorology and oceanography (METOC). I quickly got myself selected for training in this specialist field to support Anti-Submarine Warfare and Anti-Air Warfare.
Whilst undergoing this training at RNAS xxxxxx I met my wife, also RN. More happy days. I honed my METOC skills at RNAS xxxxx and Fleet HQ in London. In 1988 I was posted, married accompanied, to the NATO HQ near Lisbon (Portugal). Two years in the sun with my, now civilian, wife. Yet more happy days. Whilst there I had time to organise SODS operas, Olympiads and an expedition to the Atlas Mountains of Morocco.
I then went to the Naval College for staff training. (Middle management training) On completion I was appointed as Staff METOC to HMS xxxxxx. This was a most exciting time; supporting harriers and helicopters conducting operational ASW and AAW to find and trail submarines in the North Atlantic and monitor and supress hostile activity during the Balkans war. HMS xxxxxx then embarked on a 6-month deployment to the Far East where my global METOC skills were further developed. Somehow during this period, when I was mostly at sea, we managed to start a family.

In 1994, as a family, I was posted to the NATO HQ near Naples ( Italy) for nearly 4, very happy, years. As well as supporting NATO forces and going to sea with the US Navy's 6th Fleet I headed a multi-national team of military and civilian scientists in developing a new concept for providing operational support to NATO forces called Rapid Environmental Assessment. In any spare time, family Hammond travelled extensively in Italy and neighbouring countries.

On return to the UK, I was honoured with an MBE in the New Year's Honours list. This was for my work in leading the team that evolved and delivered the REA Concept of Operations.

Next came a spell in the MOD. Not happy days. To my surprise I persuaded the Appointer to send me on a family accompanied posting to the NATO HQ in Norfolk, Virginia (USA). Happy days were back.
We were there for the 2000 Millennium celebrations and, more dramatically, 9/11. Once again, I was able to go to sea with the US Navy's 2nd Fleet for military training and exercise.
During our 2+ years in the States we travelled to Florida, Canada (East and West), California and several of the national parks. On return to the UK, I transferred to the MOD as a Civil Servant desk officer at the Navy Command HQ. I retired in 2015.
Introducing Lionel Jacobs
(Our Former President)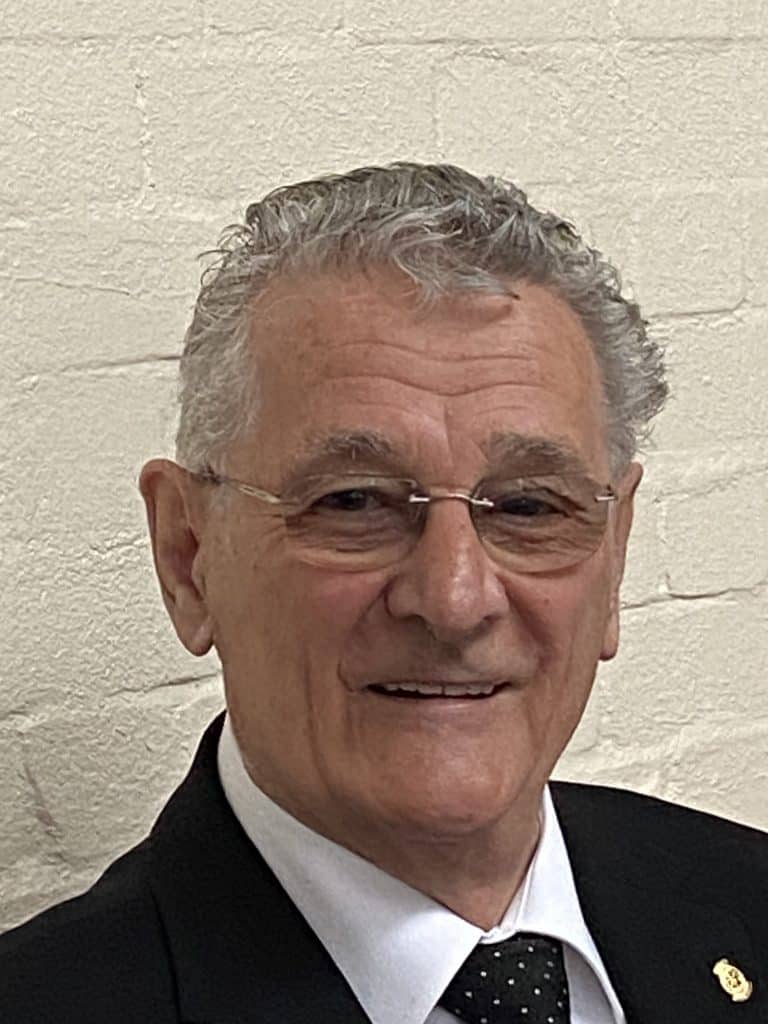 Jeaane and I have lived in the Sarisbury/Warsash area for over fifty years. We have two children who both live in Warsash. Our son Graham is married with four children, three boys and a girl, our daughter Claire is also married with two children a boy and a girl. We all live within one hundred yards of one another which is very convenient for all concerned, particularly taking when the grandchildren from A to B! We really love living in Warsash, there is every convenience in the village, some beautiful walks and terrific scenery too.
I have had a rather checkered career. Five at the beginning of the war, I was consequently moved from pillar to post for those five years, attending five different schools during this time, I eventually left at the age of fifteen. I then served an apprenship as a motor engineer attending Southampton University on a day release course to obtain a National Certificate, later obtaining my FIMI (Fellow of the Institute of the Motor Industry). At the end of my apprenticeship I did my National Service which is another long story, leaving the Army to work for Vospers for five years as a maintenance engineer.
Jeanne and I were both born in Sholing Southampton, moving to Hedge End when we were married in 1956. Four years later in 1962 we purchased a small filing station in Sholing and decided to open it as a general garage and car dealership. I am very pleased to say that that small filling station has since grown over the past fifty eight years to a very large company. We now have five sites over Hampshire and employ 168 staff. My Son Graham now runs the business and is the CEO. I go into the office one day a week to make sure they are keeping me in way in which I am accustomed to be kept!
I have been a member of the Rotary Club of Southampton East for 44 years. I have been president twice and I am still very much involved in the activities of the Club. I joined Probus four years ago. I find it completely different to Rotary as there is no pressure to raise money or to work for the community.
Probus provides the opportunity to not only meet fellow members (who have now become good friends) and enjoy wonderful fellowship on a monthly basis, but also the ability to participate in a variety of activities from local trips to annual holidays.
As per the Probus toast, "Probus and Good Fellowship"
Introducing Tim Mitchell
(Our President)
Tim was vice chairman of Godwins, a company of actuaries and consultants. He joined them at the age of twenty when he was the most junior of about a dozen employees. By the time he was thirty the company had expanded considerably and he was appointed to the board.
When he retired early in 1995 there were more than 600 employees, including many actuaries, lawyers and experts in all the other areas needed by pension funds. It has subsequently been amalgamated with other similar consultants and become part of Aon.

His main role was helping employers design and set up pension schemes for their employees. He had to deal with top management, unions and consultative committees. His clients included many household names and involved savings and investment of many millions of pounds.
He became President of The Society Of Pension Professionals, was Chairman of the west London group of The National Association of Pension Funds and was elected to the full council of the NAPF. He was a member of the editorial board of Pensions World, and a fellow of the Pensions Management Institute, for whom he was also an examiner.

On a personal note he married Liz in 1963 and they had two sons and two daughters in ten years. All are now married and have given them eleven grandchildren, six boys and five girls. Only five of them are not within half an hour and even they are only two and a half hours awash (probably an autocorrect but very appropriate given the family's ties with the sea)
The family hobby was sailing which Tim and Liz did every weekend on Frensham Pond or at Open meetings in an Enterprise or Lark. Three of the four children were picked to represent the country in Cadets and Tim and Liz took them to World Championships in Belgium, Australia, Spain, Wales and Holland.
Tim and Liz then moved into keelboats and had much success racing before sailing their 41ft Jeaneaufrom Warsash, by easy stages round France,Spain and Portugal finishing up in Palma Mallorca. They joined the Royal Yacht Club and kept the boat there for over twenty years.
Editors Note: And here's Tim at a banquet for several hundred guests at the Savoy, replying to the Minister for Pensions at that time, Tony Newton. Doesn't he look smart!
Introducing David Hamilton-Rump
At the end of my schooldays in Norwich, I entered the Royal Air Force College, Cranwell, and after more than four years of officer and pilot training became a Malta based reconnaissance pilot, operating the Canberra PR9 in the Near and Far East, the Persian Gulf and Africa.
A period as a flying instructor and Aide de Camp followed before retraining tohelicopters after attending Staff College. Six years at RAF Gutersloh, the closest flying station to the Iron Curtain, included six months as OC Operations Wing between two tours commanding helicopter units. In the late 1980s, two years as Commander RAF Hong Kong interrupted a lengthy spell at the Ministry of Defence.
As an Air Commodore at RAF Brampton near Huntingdon, I then became responsible for a wide range of support units before deciding to retire voluntarily at the age of fifty. This was followed by almost twelve years as the Deputy Chief Executive of the Bar Council, which regulated and represented Barristers in England and Wales. Long working hours extended by commuting daily from Warsash to Holborn persuaded me to substitute voluntary for paid work, of which the principal role was Chairman of a sheltered housing Association in Portsmouth for some fourteen years.
My wife Jill has chaired The Solent Arts Society and The Warsash Residents Association. We have been married for thirty years and have lived in Warsashfor twenty of them. My main interests have always been sport and music.
Introducing Mike Cresswell
(He's always Wellcome)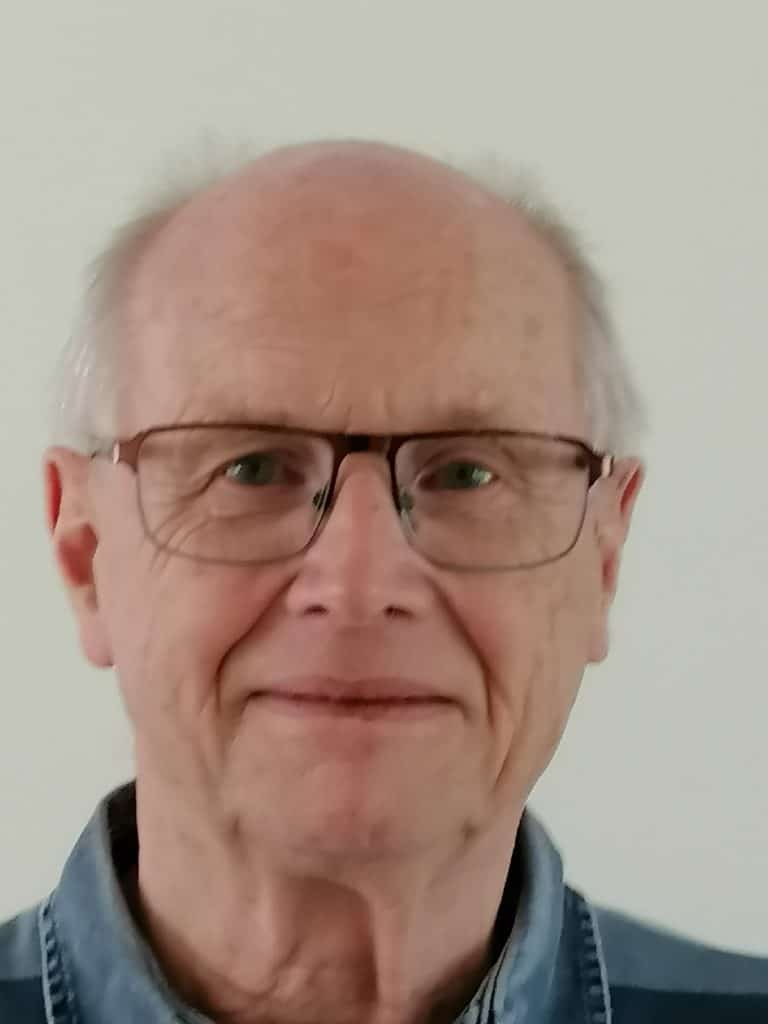 I was born and brought up in Chelmsford and went to the local Grammar School where I ended up having done A levels by the age of 17. I decided to join BP as a Student Apprentice doing a Chemistry degree on a sandwich course. I found myself in Kent based at the Kent Oil Refinery where I learned a few of life's lessons: a sentence can consist only of F and B words, you must never wake your boss from a snooze and the unions rule in a situation where the management could not afford a strike! I also spent time at Sunbury Research Centre which was very leisurely.
After I got my degree I went back to the Research Centre but soon became disillusioned and left to join Miles Laboratories an American medical diagnostics company where I was able to register for a PhD which I attained five years later. I left after seven years due to a change in research policy to join Wellcome Research Laboratories where I worked for 25 years. I then movedagain when the diagnostics business and many of it's employees were sold onto Murex, a Canadian Venture Capitalist which was only interested in maximising profit. I took redundancy in 1998 when they sold the business to Abbott Laboratories which was only interested in buying the patents for HIV and hepatitis tests.
My last job was as the Development Manager for a Medical Diagnostics Company which produced tests used for blood screening and testing for viral and bacteriological infections. This involved scale up from a research prototype, trouble shooting on 400 existing products and producing data for registration around the world.
After retirement I served as a Trustee, Company Secretary, Branch Manager and working volunteer for an old peoples charity. This kept me busy! Since moving to Locks Heath I have been active in the Solent U3A serving as Membership Secretary for seven years and until recently leading a walking group. I am now taking life easily apart from organising lunches and occasional outings for Probus.
Introducing Jim Dodd
(He's got a bee in his bonnet)
Jim told us that he has lived in this part of the world for some forty years and was born in Slough in 1946. He joined the army as a surveyor and went to Germany and the Middle East while in service.
He joined IBM and came to the South Coast first to Park Gate and then later to Warsash and finally to Sarisbury. He has lived there for some thirty odd years.
When IBM was restructuring under new CEO Lou Gerstner, he worked in Northern Spain for a while before joining a company called Electronic Data Systems (EDS).
At EDS he worked in the IT business specifically on Inland Revenue accounts although clearly he has nothing more to do with that now (so you are all safe) From being a Project Manager he moved into quality and for ten years or so was an International Standards Organisation (ISO) consultant working as an ISO auditor but to an American Standard.
He took a retirement package and left IBM at the age of forty eight eventual retiring fully at the age of 63. Since then he has been heavily involved in a number of local activities and is a keen gardener with his wife Rita maintaining their large plot which includes two bee hives at home as well as others situated elsewhere where.
Anyone for honey?
Introducing Vic Croft
(Yes, we know you know him already)
Born in 1930, I went to a secondary modern school learning the violin and playing in the school orchestra. We were the top school orchestra and won all the Musical Festivals in the UK at the time.
I left school at fourteen and found a job quickly at Enfield Rolling Mills as a post boy. As soon as my father knew, he was annoyed and said that I must be a civil servant, so I agreed to be an engineer.
I started in the General Post Office (GPO) as a telegraph boy until I reached the appropriate age to join the GPO engineers. The eldest telegraph boy joined the the Navy providing me, as I was the eldest junior, the opportunity to progress at which point I was given a motor cycle.
At fifteen I was the youngest person to get an official licence under the Ministry of War Transport. Called up for National Service, I joined the RAF, and trained to be a wireless operator. I was put on a new secret Ground Control System from the USA and left to go into a factory in Enfield Middlesex servicing aircraft instruments.
When I left, I joined a London company doing the same thing in Wardour Street later joining De Havilland servicing instruments at Hatfield, starting an equipment evaluation scheme about a month before Which was launched.
Shortly after I met my wife Enid, who had just returned from Chile following a broken marriage. We were both in Hertford Cine Club and I sent off a film to the Edinburgh Film Festival winning a 'Commended' badge, only to find out that my wife had won outdone me being 'Highly Commended' – I had definitely met my match!
My boss at De Havilland had left to join Plessey in Titchfield and when sailing in Portsmouth he invited me to look around Plessey. A couple of months later I was offered a job with them (now British Aerospace) to set the up the same system. We moved Warsash shortly after.
I started In Fareham and later (as all the instruments were made in China) moved into Test Chamber calibration.
Some years later I was asked to join a Portsmouth company at Plessey's request, but unfortunately they they went bankrupt. However, having earnt my spurs and developed a personal reputation, I was deluged with people to start a Test Chamber company which I did very successfully serving people like Nokia, Ford, and Rolls Royce etc.
I retired in 2012, joined Probus shortly after and I'm still here!
Introducing Carl Nolan
I was born in Cheadle Cheshire and moved to the Isle of Wight when I was 11 years old with my family. Apprenticed as a Marine Engineer in J S Whites. I became interested in cars and spent hours helping in a body repair shop.
I played guitar in a band first in local youth clubs, then dance halls, Piers, Clubs and eventually Holiday Camps. The cash allowed me to buy and sell a few cars. At the end of my apprenticeship, with the help of my father I bought an old builders yard and converted it to sell cars with a workshop behind
Married to Jeanie in 1966, I built up the business over a number of years and in 1973 I bought my first dealership in a very run down garage on the outskirts of Newport. I built a new workshop and converted the original garage to a showroom.
I joined Round Table in 1974 and made many lifelong friends.
I had several car franchises, opening two further outlets all on the Island. The business was sold to Snows Motor Group and sold the business, retiring age 50.
By then, both daughters had moved away so Jeanie and I went sailing. We downsized and moved to Warsash joining the Sailing Club where we made more friends. Sadly, my wife passed away 18 months ago.
My thanks for the invitation to join the Probus Club of Locks Heath, I look forward to meeting fellow members over the coming months.
Introducing Chris Walters
I was born in Surrey with two brothers, but my younger brother, sadly is no longer with us. I'm married to Sue, with two children Nigel at Bristol, and Karen in Sarisbury Green. With three Grandchildren, two at University and the other one a Project Engineer.
I started work at Sainsbury's for thee years but I was more interested in the Soft Drink Trade, so I progressed to Canada Dry, Corona then Showerings makers of (Babycham), Coca Cola and finished up at Vimto Soft Drinks as a Territory Manager for twenty years before retirement.
I've been in various U3A's for fifteen years, currently at Eastleigh District, run a 2nd Walking Group, Ten Pin Bowling, Genealogy, Saturday group and Poetry. I play out door Petanque at Portchester and am a member of Hampshire Genealogical Society. I retired from Beekeeping five years ago having done that for thirteen years.
I am ooking forward to becoming an active member and meeting other club members.
Introducing Mike Pinder
I was born in Wimbledon at the start of WW2. After the war ended, we moved to Sutton in Surrey and then to Send near Woking. I went to a preparatory school in Sutton, opted to go to a secondary school in Send, then passed into Guildford Technical School before going up to Guildford Technical College. I was selected to go on one of the first Diploma in Technology sandwich courses sponsored by Esso. I then worked in Esso's head office in London. I built many storage and distribution facilities throughout the UK and invented a system for moving large oil storage tanks on air cushions.
I made my own inflatable hovercraft in the spare bedroom. This worked very well, so I decided to put it into production. I left the largest company in the world and set-up the smallest – Pindair Ltd. We started in London but soon moved to Gosport, to be next to Portsmouth Harbour. We designed and built a range of small hovercraft, which we sold to seventy countries but were forced into voluntary liquidation during the recession. I then licenced my designs to two other companies and worked for a company moving heavy loads on compressed air cushions. I was the founder of The Hovercraft Museum Trust and collected over 50 hovercraft which are now on display at the former HMS Daedalus. I have written a book about hovercraft – due to be published soon.
I have also written and published a book about the measurement, management and government of Time and Space in the past, present and future. I have given many talks and lectures of this subject and have been on a number of radio and television programmes.
I have performed magic for many years and was president of The Associated Wizards of the South, founded by The Great Houdini.
Anna and I have lived in Warsash for 45 years. We are members of Warsash Sailing Club and Sarisbury Green Arts Society.
I was a member of Locks Heath Rotary for many years and was president twice but, in my eightieth year, have decided to move to Probus.
Introducing Doug Eason
Doug started his introductory talk by thanking members of the Probus Club of Locks Heath for the warm welcome he had received both on the day and at his previous meetings as a guest.
Doug is a local from Sholing who attended Sholing Infant and Junior Schools before moving on to Bitterne Park. Leaving school, rather than joining the family business, he was apprenticed at Thornycroft (later to merge with Vosper to become the Vosper Thornycroft we are all familiar with today).
In 1974 he left to join the family business Eassons, a local coach company which many Probus members will be familiar with (could the history of the company be a possible Probus talk?). He is still remembered by old customers who regularly stop him in the street to reminisce.
He has been president of the Local Rotary Club and says says that "thinking friendly" is one of his key objectives in life. He is looking forward to meeting members of the club over the coming months.
Introducing Tony Hall
Born in Bury, Lancashire in 1941. I attended Bury Grammar School from kindergarten through to sixth form. I studied Chemical Engineering at Birmingham University, graduating in 1962. I met my wife Judith at the university and we married in 1964. We had 3 children and now have 7 grandchildren.
I started work for Esso at Fawley refinery as a young engineer giving technical support to the operation of the catalytic cracker. I was involved in one of the first two trials in the UK of computer control of the operation of a refinery/chemical process. I left Fawley in 1966 as I decided I wanted to work for a contractor to the oil and petrochemical industry to be involved in the design, rather than operation, of plants. I spent most of my further career working in the London office of MW Kellogg, the US based contractor. I later became a Fellow of the Institution of Chemical Engineers and a Chartered Engineer.
We bought our first yacht in 1976 which we based in the Solent. We did quite a lot of local sailing and every summer holiday we sailed with our three children to north and south Brittany, Normandy and the Channel Islands, usually in company with other yachts of friends.
I took early retirement in 1999 and we moved to our present house here in Sarisbury Green in 2000. After just 3 months, we set off from the Hamble to the Mediterranean in our yacht Mora. We decided to head for the Med as we are both interested in history and antiquities, it was the first of many adventures!, however have now decided to give up our long sailing career and have put Mora up for sale after 30 years of ownership.
We have been members of the RAF Yacht Club in Hamble for about 35 years and will continue to meet our friends there. We both enjoy travel and gardening and I still do DIY. I look forward with anticipation to interesting meetings with Probus
Introducing Derek Treagus
(He's our Webmaster)
Born in Portsmouth, I have spent most of my life living in the Solent corridor between Portsmouth and Southampton. However, as a life long Portsmouth FC supporter, I do not appreciate living in an area which has a SOUTHAMPTON postcode!
The name Treagus was primarily based in the East Sussex area in early UK censuses but has now spread far and wide across the UK and the World. The name itself is a derivative of Tregoz, the earliest mention of which is in the Domesday Book which refers to the village of Lydiard Tregoze. Baron Tregoze was part of the conquering Norman force which took part in the Battle of Hastings in 1066.
The family was a noble one with many estates across the country, with its own Coat of Arms bestowed on it, but the official line died out in 15th Century. The name that remains common in West Sussex and the South of England has two variants Treagus and Treagust and probably derives from either lesser members of the family or illegitimate offspring!
I spent a lot of time in Public Libraries and the Mormon Church in Southampton (the Mormon Church at that time had and probably still has the largest collection of Birth and Death records in the world) researching my family tree tracing and printing individual records, now it can all be done for free including sites that give a visual view of the distribution of your surname within the UK according to census and other online records.
Enough of my family history….. educated at Southern Grammar School for Boys, Portsmouth (which changed to Great Salterns Comprehensive during my time there), I moved on to study Chemistry at Bristol University before joining IBM as a junior programmer in 1979 (I had worked there for the previous two summer vacations as a Summer Student and taught myself the basics of programming with the help of my colleagues).
IBM provided the opportunity to move around to a variety of different jobs, without needing to move company! My next job in Academic Programmes involved setting up and supporting projects in Universities around the UK (as well as the opportunity to travel to the Cabinet Office in London to install a brand new PC-AT for the Government's Chief Scientific Adviser) before I took up my first management role as manager of the Image and Visualisation team in the IBM United Kingdom Scientific Centre. Much of the work was leading edge with two of the projects my team were working on being featured on BBC Television's Tomorrows World, including (from Memory) a 3D reconstruction of the Dresden Frauenkirche which was used as part of the fundraising for the actual reconstruction.
Moving to IBM Hursley, I first became the Development and Customer Support Manager for one of IBM's key products CICS (Customer Information Control System and after that took on the same role within the Websphere MQ (Messaging and Queueing) team. Whilst you may not have heard of either they are integral to many banking and other commercial systems across the world and something you probably use regularly without even knowing.
My final role was as the IBM Hursley Laboratory Manager which entailed a range of responsibilities from managing the site (which includes two listed buildings and has a very interesting history) and computer facilities based there through to managing the Hursley Customer Briefing Centre and Graduate recruitment. A very varied role and one which I thoroughly enjoyed.
Retirement has allowed more family time (my wife Elaine and I have three children two of whom live locally, our third though lives in Scotland) and we have recently acquired our third grandchild during lockdown, more travel (until the current restrictions), more more cruises, more time for walking in both the local area and further afield (in 2019 we walked the last 115km of the Camino de Santiago with fourteen fellow pilgrims) and more time to both play on my now complete range of Apple hardware from iPhone, iPad and iMac to my new MacBook. All very different for someone brought up on IBM mainframes and IBM Personal Computers! I've also been very interested in Digital Photography since the very early days and have a collection of almost 50,000 digital photos!
And, of course, there is the website that I maintain for our local Probus Club, the Probus Club of Locks Heath, that keeps me both mentally active and up to date with technology.
So to anyone who has managed to read all the way to the end of this article, may I propose the Probus toast "Probus and Good Fellowship"
Derek